ICS22
Material for molding which hardly cracks by hobbing and is superior in hardenability and toughness.
Cold tool steel which has an aptitude for carburizing and quenching.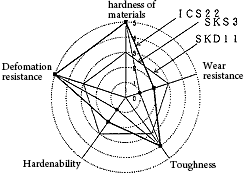 Difficult to crack when material of hardness less than 171HB is processed by hobbing.
Good hardenability and vacuum quenching aptitude have been obtained.
Applications
By mass production
or small-quantity production
and low load
For Eyeglass frames, Clocks, Coins and so on.
quench and temper after cold hobbing.
By mass production
and high load
For Screws, Bolts and Auto parts.
carburize after cold hobbing.
Heat treatment conditions
| NACHI Grade | Austenitizing temperature (°C) | Tempering temperature (°C) | Hardness (HRC) |
| --- | --- | --- | --- |
| ICS22 | 10301050 | 150200 | 5760 |
1. Relation between austenitizing temperature and hardness of ICS22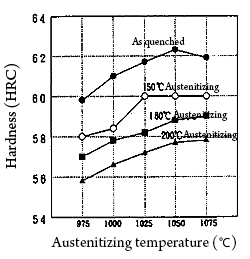 2. Evaluation of hardenability of ICS22 by half temperature diagram