News Releases
July 31, 2020
NACHI-Fujikoshi
Nachi-Fujikoshi Launches Hi NVD-10 Hybrid Vacuum Degreasing Machine
In August 2020, Nachi-Fujikoshi released the newly developed Hi NVD-10, the latest in its Clean Master series of vacuum degreasing machines. The Hi NVD-10 uses hydrocarbon-based solvent to achieve both high quality cleaning and lower environmental impact.
1. Market Trends
Processes designed to degrease industrial products entail numerous issues, including the difficulty of thorough cleaning due to the increasing precision of the parts to be washed and the environmental impact of cleaning fluids.
The aqueous/semi-aqueous cleaning agents (alkaline cleaners) widely used today are low cost and relatively safe, but tend to offer only weak degreasing capabilities. They also generate waste fluid that must be treated before disposal. On the other hand, solvent-based cleaning agents (chlorinebased solvents, fluorine-based solvents, bromine-based solvents) offer high degreasing power and dry rapidly but create significant environmental burdens. Degreasing systems using hydrocarbonbased solvents offer both high quality degreasing and low environmental impact; for this reason, demand for such systems is expected to grow.
In response to this demand, Nachi-Fujikoshi recently launched its newly developed Clean Master series Hi NVD-10 hybrid vacuum degreasing machine, which uses a hydrocarbon-based solvent.
2. Features of the Hi NVD-10
(1) Hybrid system offering high degreasing power
The Hi NVD-10 in its standard configuration offers two washing systems, immersion washing and steam washing, to achieve high quality degreasing.
① Immersion washing (triple washing)
High washing performance is achieved by a three-stage washing process consisting of a primary wash, immersion, and a secondary wash. A dedicated circulating pump allows heated washing for greater cleaning power.
② Steam washing
Steam washing is a powerful method for cleaning workpieces featuring small holes and complex shapes. Coupled with shower washing, it effectively cleans deep holes in workpieces and other areas into which the cleaning agent may not otherwise effectively reach.
(2) Reduced environmental impact
In addition to using a hydrocarbon-based solvent with low environmental impact, the Hi NVD-10 reduces the volume of solvent retained by about 20% compared to the NVD-10E, the preceding model, thereby achieving both high washing performance and low environmental impact.
The new product requires an installation area of approximately 14m2, about 8% less than the previous model.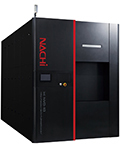 3. Target Markets
| | | |
| --- | --- | --- |
| | : | Pre-washing electric/electronic parts, dies, etc. before vacuum heat treatment |
| | : | Pre- and post-washing pressed or deep-drawn parts before and after heat treatment |
| Industrial machinery field | : | Degreasing large and heavy parts such as heavy electric machine parts and ship parts |
4. Specifications
| | | |
| --- | --- | --- |
| | : | 760(width) × 1,220(depth) × 760(height) mm |
| | : | Max.1,000kg/gross charge (steam washing:400kg) |
| | : | Approx.25 minutes (standard setting:triple washing) |
| | : | 1,500L, hydrocarbon-based solvent |
5. Release Schedule
| | | |
| --- | --- | --- |
| (1)Release date | : | August 2020 |
| (2)Price | : | 50 million yen (price for standard main unit/excluding tax) |
| (3)Target sales | : | 10 units/year |
6. Contact for Inquiries Regarding the New Product
Planning Department, Thermotech Division, Nachi-Fujikoshi Corp.,
Tel: +81-(0)76-471-2981
END