News Releases
October 20, 2021
NACHI-Fujikoshi
Expanded lineup of Ethernet/IP support to digital control amplifier
"ERD series"
1. Our approach to the market trend
With the rapid progress of digital network technology, IT and IoT support are advancing in various industrial sectors and equipment. Hydraulic equipment is also required to be digitized and supported as an IoT device which connects to the network.
Since the launch of solenoid valves in the 1960s, we have developed and sold solenoid proportional valves and amplifiers that control them in-house to meet the diverse needs of users.
For digital control amplifiers, we launched ERD-10 in 2019 and ERD-20 in June 2021. This time, Nachi expanded its new lineup with "ERD-20" series that supports industrial network Ethernet/IP and contribute to improved user productivity.
2. Outline of Ethernet/IP-support digital control amplifier "ERD-20"
(1) Target market and needs
Industrial machinery such as machine tools and forging machines
①.Operation time reduction
a.Industrial network Ethernet/IP compatible
By supporting Ethernet/IP for the industrial network, current/voltage value commands, sensor information and various status of amplifiers can be transmitted to hydraulic unit via high-speed communication, contributing to the factory IoT transformation.
In addition, a single Ethernet cable enables connection with the PLC which controls the processes, and the man-hours required for wiring is reduced significantly to about 1/2 compared to our conventional product.
b.Simple batch setting on PC
The use of a dedicated tool software enables operation, command, backups of the setting and batch setting on the user's PC. The time spent to set parameter is drastically reduced to about 1/10 compared to our conventional product. In addition, the settings of the second and subsequent amplifiers are completed by copying only.
②.Pressure sensor feedback control
Equipped with a pressure sensor feedback control that measures the hydraulic pressure by a pressure sensor and automatically adjusts the driving current of the solenoid proportional valve, which greatly reduces the change in pressure due to the hydraulic oil temperature change and the override characteristic of the valve and can be controlled by the pressure as instructed.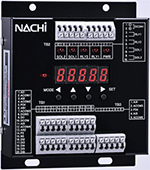 ③.Overseas safety standard compliance
The product is compliant with CE (Europe) overseas safety standards.
3. Product launch date and sales target
(1) Launch date: November 2021
(2) Price: Open Price
(3) Sales target:
By 2023, aim to sell standard products including Ethernet/IP-support products for 2,400 units/year.
4. New product inquiries
Contact Hydraulic Division - Hydraulic Planning Department, TEL: 076-438-8973
END