News Releases
November 10, 2021
NACHI-Fujikoshi
Introducing the high-performance and compact CFDs Controller as
an automated solution for "Connector insertion application".
1.Growing demands for automation in the electrical and electronics field
In the field of manufacturing, the demand for robots has greatly increased in order to improve productivity and address manpower shortages. This demand has significantly affected the electric and electronic fields, and the use of robots in EMS is rapidly expanding.
On the other hand, the assembly process in the electrical and electronic fields requires the assembly of small parts with high precision. This assembly process requires a lot of examination time, expensive equipment, and sophisticated technology. In addition, there are processes where automation delays occur because the product life cycle is short with a high frequency of setup changes.
Among other things, FPC/FFC*1 cable insertion is required in the anufacturing of electronics and a variety of processes. Though it was done and the need for automation was high, accurate mounting was difficult and the automation was difficult, because the cable itself was soft and the shape was not constant.
*1: FPC(Flexible Printed Circuits) and FFCs (Flexible Flat Cable) are cables for connecting electronic devices
2.Our initiatives
We launched the MZ series of compact robots in the market in 2013. The "MZ Series" has a hollow wrist structure that allows wiring to pass inside the robot, without interfering with peripheral equipment, and can be approached from all directions. We have responded to the need for automation in the field of manufacturing with a robot suitable for parts transportation and assembly applications, etc.
On the other hand, prior to that, in 2011, the company launched a vision system for robots in the market, and has been proceeding with the development of visual control technology. Now, we have developed a new visual control technique using our own algorithms, *2 using that technique, "Robot connector insertion application" is developed in the market.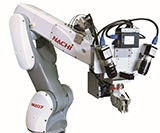 In the application using the new visual control, the insertion work of FPC and FFC for various applications such as smart phones and in-vehicle displays, for which production will grow in the future, will be realized at high speed and with high accuracy.
To meet user needs of more compact production equipment in size and weight, we launched the CFDs controller. This controller is significantly smaller than the conventional CFD controller (60% reduction in volume and 48% reduction in weight) and further improves functionality.
We will continue to combine a variety of applications from the viewpoint of robot manufacturers, and we will provide optimal solutions to improve customer productivity and quality.
*2: Pending 6 visual control technology patents
3.New products lineup
(1) Connector Insertion Application


Grip


Insert


Inspection
①.Features
a.High-precision, high-speed operation
With the left and right cameras and vision sensors attached to the tip of the robot arm, Stereoscopic recognition of objects (FPC/FFC) and targets (connectors) is possible.
Once the object is accurately gripped in three-dimension space, the vision sensor automatically calculates the route of movement required to insert the cable into the connector. In addition, real-time scanning provides tracking correction for highprecision positioning.
In addition, there is no need to use a force sensor, etc., since connector insertion work is completely performed at one point, up to 7 seconds*3
*3: The time required for a series of operations, until the robot grasps the cable, inserts it into the connector, and the inspection is completed
b.Compatible with a variety of insertion operations
Supports a wide range of connector sizes from 5 to 41 mm wide.
By utilizing the hollow structure of the robot and attaching a visual device on the robot arm, it can be inserted from various directions and angles without interfering with peripheral equipment.
c.Easy setup
Real-time correction using visual sensors enables accurate insertion without exact positioning. Reduced set-up time during setup changes at production sites.
d.Equipped with traceability function as standard
The visual inspection results at insertion and completion of insertion are automatically saved as image information.
Equipped with a QR code reader function as standard, it is possible to record and manage inspection results, etc. in conjunction with image information.
②.Launch Date and Target
a. Launch date: November 2021
b. Price: Open Price
c. Sales target: 120 units/year
(2) CFDs, a high-performance, compact controller
①.Features
a.Increased flexibility in layout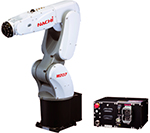 Compact and lightweight design that can be installed in any position, including vertical installation.
Can be stacked on top of each other.
Compared to conventional CFDs:
Volume 12.4L (△60%),
Weight 8.9kg (△48%),
Installation area 775cm2 (△57%).
b.Improved ease of use
Easy to grip with high-definition touch panel and 4-core CPU Comfortable operation with the teach pendant.
Easy operation by convenient icon display, flick operation, etc.
The teach pendant body and cable are separated from each other by connectors. Each can be replaced individually.
c.High expandability
Additional control of 2 axes total. 1 other axis is possible with 1 additional axis for servo hand.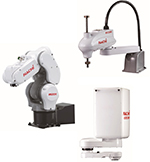 ②.Launch Date and Compatible Models
a. Launch date: November 2021
b.Compatible models:
MZ01, MZ03EL, MZ04,
MZ07, MZ07L, MZ10
EZ03, EC06
4.Inquiries for new products
Robot Business Planning Department, Robot Division, Nachi-Fujikoshi Corp.,
Tel: +81-(0)76-423-5135
END