News Releases
February 2, 2022
NACHI-Fujikoshi
PZH-1B, the smallest-size model for
the PZH-series high-pressure variable displacement piston pumps launched
1. Our initiatives to the market trends
Forging equipment such as press machine is used in the production of MLCCs (multilayer ceramic capacitors), with its demand growing significantly due to the processing needs of CFRP and titanium in the fields of automobiles, aviation/aerospace and electrification, the equipment demand expansion is expected. HPU is often used as a power source for the drive of industrial machinery such as forging machines. Due to the growing need for space saving and energy saving of equipment, there is a demand for smaller, yet higher output hydraulic units.
In 2018, we launched the high-pressure variable displacement piston pump PZH-3B. As the "PZH series" which realizes high-pressure specifications, energy saving and low noise, since then we have been rolling out "PZH-3B" and "PZH-2B" for the optimum pumping capacity selections according to the work size. This time, the smallest "PZH-1B" will be newly added to our lineup for further contributing to compactification and energy saving of equipment.
2. Features of high-pressure variable displacement piston pump "PZH-1B"
(1) Target market/needs
Industrial machinery such as machine tools and forging machines
(2) Features (in common to PZH Series)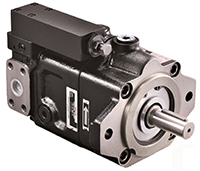 *Read QR code
for more product
information.
①Energy saving
 By the mechanism that reduces friction loss and internal leakage at each sliding part, energy-saving performance is improved and running costs are reduced.
②Low noise
 With the reduced pulsation of pump discharge pressure and high rigidity design, noise is greatly reduced, contributing to the improvement in the working environment.
③High-pressure specifications
 At 35MPa, a common feature of the "PZH-Series", realizes continuous discharge operation, machine operation is possible with long machine life with stability even under high-pressure operating conditions.
3. Product specifications
1B
(Reference)2B
(Reference)3B
Rated pressure
35 MPa
Max. revs
2000 min-1
Maximum pump
capacity
16.5 cm3/rev
45 cm3/rev
72 cm3/rev
4. Price and sales targets
(1) Product price: Open Price
(2) Sales target: 500 units per month by 2023.
5. Product inquiry
Contact Hydraulic Division - Hydraulic Planning Department, Tel: 076-438-8973
END