LP series
LP130/180/210-01
High-speed palletizing

1,500 packages per hour for 130kg loads (LP130)
1,800 packages per hour for 60kg loads (LP130)
Flexible system setup is available with 130kg, 180kg, or 210kg capacity models.

Handle a variety of loads

Easily lift different shapes and sizes.
Optional palletizing hands available to carry loads that are small or large.

Compact Layout

Compact design reduces interference within a large operating range so work area layouts can be flexible and compact.

Easy Operation

Teaching operations are easy for novices to understand.
Interactive instructions are possible.
Automatic program generator.

Controller
Paradise function enabling easy operation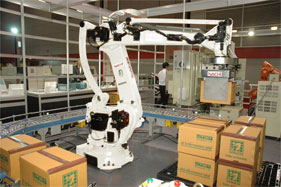 Equipped with an automatic program generation function that can be used simply by inputting work measurements and selecting a palletizing pattern.
Also offers special functions such as an "overlapping placement prevention" function and a "work height correction" function that supports bags for which thickness changes according to self-weight. These functions realize simple setting and teaching.
By using the simulation software FDonDesk, it is possible to create programs and to check palletizing conditions and cycle time on a PC.
Catalog Download

· LP130/180/210-01 (2pages/901KB)