Global Expansion of the Engineering Business
NACHI-FUJIKOSHI is nurturing new businesses through newly established bases in Japan and overseas specializing in engineering services, including the re-sharpening and recoating of cutting tools and robot maintenance.
Regrinding/
Recoating for Cutting Tools

Tool Engineering Services

Robot Maintenance, Overhaul

Remodeling,
Retrofit for Machine Tool

Maintenance of Industrial Furnaces

Robot School
Technical Consulting


NACHI Engineering
We set up NACHI Engineering Co., Ltd. to consolidate and expand various engineering services, including for machine tools and robots, along with our showrooms and demonstration facilities. This move will enhance our technical support for customers.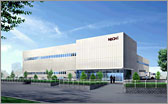 NACHI (Shanghai) Precision Tools Co., Ltd.
Established in Shanghai in March 2006 as a base for precision tool engineering services, this company will advance business in the Chinese market together with bearings manufacturer Shanghai NACHI Bearings Co., Ltd., band saw manufacturer Shanghai NACHI Saw Corp. and sales company NACHI (Shanghai) Co., Ltd.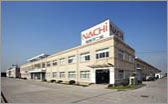 NACHI Tool America Inc.