News Releases
May 18, 2004
NACHI-FUJIKOSHI CORP.
Development of "NANO FACER" for High-Precision and Highly Efficient Machining of Optical Fiber Communication Parts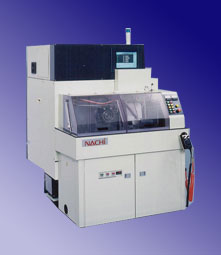 NACHI-FUJIKOSHI CORP. developed "NANO FACER," an ultra-precision multiple machine for high-precision and highly efficient machining of optical fiber communication parts, and started its sales from May 2004, aiming to expand the market of optical communication parts and precision business of our company.
1. Backgrounds of development
Efforts of precision business

NACHI-FUJIKOSHI CORP. utilizes the strength of multiple business management with machining technology, control technology and component parts technology, and provides high-precision, highly functional and highly reliable machining systems for the field of ultra-precision machining.
In addition to the fields of precision lens molds, semi conductors and electric and electronic parts, we are developing ultra-precision machines for the field of optical communication parts as a key pillar of precision business.
As ultra-precision machines for optical communication parts, we have released precision slicing machines for optical fiber array and jet finishers for inner finishing of ferrule, and received high reputation from the market.
This time, we will introduce an ultra-precision multiple machine "NANO FACER" to machine terminal areas of optical connectors in the finishing processes from grinding to lapping, intending to establish a firm position in the optical communication market which is expected to expand.

Trends of optical communication market

In the communication field, speeding up, large capacity and integrated service of communications such as the Internet, telephone and telecasting are proceeding, and it is forecasted that demand for optical connector parts will increase as optical fiber plays the leading part in infrastructure building..
Flatness and surface roughness at nano level are required for connect end faces of optical connector parts. Up to now, machining was done by a lapping machine, but needs for more highly precise and highly efficient machining are increasing from the aspect of quality and cost.
2. Features of "NANO FACER"
High-precision finishing


By adopting the processes of grinding and tape lapping, high-precision machining of end faces of optical connector parts at nano level is possible.

Flatness: 0.1micrometer / 10mm
Surface roughness: 0.003micrometer


Machining by a cup grind stone in the processes of rough grinding, finish grinding and tape lapping is possible without a setup change, thus adjustment for each process is not necessary, and stable high-precision machining is possible without regard to skills of operators.

Highly efficient machining

Continuous machining from grinding to tape lapping enhances productivity 6 times, and machining time is reduced one sixth compared to the conventional methods of rough grinding, finish grinding and finishing by a lapping machine.
It is possible to reduce number of machines one third compared to the conventional methods because "NANO FACER" can machine in the three processes from rough grinding to finishing.
3.Target market and sales target
Target market

Inquiries from optical communication market are brisk, and we have already received some orders. We will develop successful matters horizontally towards customers in Japan and overseas.
We will promote application development for the fields which need lap finishing after grinding such as HDD and liquid crystal glass.

Sales target

Sales price: 40 million yen / unit
Sales target: 1 billion yen annually (25 units)