News Releases
June 7, 2004
NACHI-FUJIKOSHI CORP.
Seismic Isolation Plate "Magni Cradle"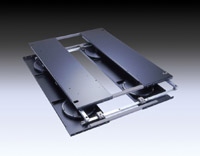 After the Great Hanshin Earthquake in January 1995, needs for the quake-absorbing of precision machines and objects of art are increasing as an antiearthquake measure. NACHI-FUJIKOSHI CORP. is developing the business by utilizing the synergy of multiple business including machining, component parts and materials. We developed rolling bearing type of quake-absorbing equipment for house in cooperation with Daiwa House Industry Co., Ltd., a major house manufacturer, by utilizing the rolling technology of bearings and control technology of hydraulic equipment, and put it into market in January 2004. In June 2004, applying the know-how of the equipment for house, we developed a quake-absorbing table "Magni Cradle" to protect precision machines and objects of art from earthquakes. IBM Japan, Ltd. already adopted it as an anti-seismic system for computer servers in May 2004. We will continue to release the products which respond to environment and risk with a sense of social mission.
1. Aims of cooperative marketing
Features of "Magni Cradle"
*A cradle for protection from earthquakes

Rolling bearings are adopted to reduce the shock of an earthquake (accelerated velocity at the time of earthquake) one fifth to one tenth.
Clean friction damper without oil is adopted to restrain a shock.
Unique Oldham's bar* structure is adopted to prevent twist and lift. It also responds to vertical shakiness.

*A box-shaped coupling rod which touches upper and under plates.
Shaking energy is absorbed by generating sliding abrasion between support
blocks which are fixed to the plates.

Substantially downsized. Installation space is reduced 30% and height (thickness) is two third compared to the products by other companies.
Division and re-assembly are possible by a plate unit. Re-wiring is not necessary and installation to existing servers is easy. Total space adjustment is possible by adjustment of coupling rods which connect plate units, or by connecting some units.
Laden weight is up to 1,200kg.
2. Target market and sales target
Anti-seismic market is a prospective market.
Target markets are as follows:
*Computer servers *Objects of art and craftwork
*Various precision testing equipment *Medical equipment
*Medicine cabinets and display shelves at convenient stores
Expansion of application is expected.
Sales target:Approximately 500 million yen annually
Start of sales:June 2004
Distribution routes and sales methods are not restricted because this product covers wide fields.
3. Basic specifications
Quake-absorbing performance
Max response acceleration spectrum 90gal
for max input acceleration 818gal
< Testing condition >
Input seismic wave : Kobe wave Laden weight: 900 kg
Size
*Width of plate : 330mm
*Width of total unit: 910 to 1,110mm
*Length: 1,000 to 1,200mm
*Height: 100mm
Weight
*1 plate: 60 to 65 kg
*Total unit: 120 to 130 kg
Allowable laden weight
100 to 1,200 kg