News Releases
September 26, 2005
NACHI-FUJIKOSHI CORP.
NACHI Symbio Series
Introduction of "GS MILL Hard Ball" into Market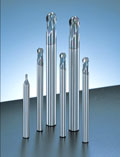 On October 1, NACHI-FUJIKOSHI CORP. will release "GS MILL Hard Ball" for highly hardened dies after tempering, as the third product from the lineup of "GS MILL" which cooperatively developed with Sumitomo Electric Hardmetal Corp. NACHI-FUJIKOSHI CORP. and Sumitomo Electric Industries, Ltd. -now Sumitomo Electric Hardmetal Corp. -formed an all-inclusive business alliance for cutting tool business in 1999, and we have deepened the partnership in wide areas including product development, manufacture, sales and service. The tie-up produced good results especially in product development, and there are 16 items of cooperatively developed products.
1.Global standard carbide end mills, "GS MILL" Series
"GS MILL" Series which fused material and coating technology and designing and production technology of both companies enabled high efficient milling of dies and machinery parts, achieving high cost performance. Especially for the milling of dies, they receive high reputation as global standard end mills in domestic and overseas markets.
2.Features of "GS MILL Hard Ball"
In the field of the milling of dies, a method to directly machine hardened material is expanding, and need for cutting tools to be more precise, high efficient and longer life even in harsh conditions is increasing.
We developed and adopted "GS Hard Coating" with enhanced lubrication function, and it reduces abrasion resistance one third that of conventional products. It prevents adhesion of work material occurred in a central part of ball end mills, and it enhances chipping disposal capability. It contributes to enhance precision and quality at a milling surface.
As material, highly intense micro grain low cobalt carbide alloy, which is suited for hardened material, is adopted to prevent plastic deformation of cutting tools during milling, and durability is substantially enhanced.
By a unique production method, there is no seam between the ball part and the external part. Therefore, abrasion around seams is prevented, and stable milling for a long time is possible.
It assures the R accuracy of +3 to -7 micrometer at a top ball part. High precision milling reduces the left-over volume, and shorten the polishing time in the after process.
3.Application and sales target
Application:
Hardened steel up to 70 HRC, pre-hardened steel
Size:
Diameter from 0.2 to 6 mm, 13 sizes
Sales target:
GS MILL Hard Ball 200 million yen / year
Total of GS MILL Series 2 billion yen / year
(Total of two companies)
Start of sales:
October 1, 2005
Symbio Series, a New Brand for Cutting Tools

We position high function round tools which utilized our unique technology in material, coating and machining as "Symbio," aiming harmonious coexistence of human beings and environment.We are going to achieve the collaboration of diversified need with advancing machining technology.
Symbio Series consist of superior six product groups, "AQUA Drills," "X's-mill Geo," "GS-mills," "DLC Drills," "DLC End Mills," "Mold Meister Ball," and "AG-mills."
We will provide most suitable cutting tools for wide fields, achieving high precision, high efficiency and high cost performance.