News Releases
April 07, 2006
NACHI-FUJIKOSHI CORP.
Development and Sales of cBN Ball Nosed End Mill"Mold Finish Master"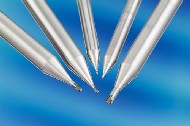 NACHI-FUJIKOSHI CORP. in cooperation with Sumitomo Electric Hardmetal corp. has developed cBN(Cubic Boron Nitride) ball nosed end mills called "Mold Finish Master". Sales will start from May 10th.
1.Cooperation development background and product advantages
Until now, in manufacturing molds & dies made of hardened material, the finish process has been conducted by means of heat treatment after milling. Recently, in order to shorten the production process, much attention has been garnered by a process of direct milling on heat treated, hardened material.

We adopted a new grade of cBN for "Mold Finish Master", which has a high degree of chipping resistance. This new grade has made it possible to improve accuracy and to have 4 times more durability than that of the cemented-carbide coated end mills previously used in direct milling of hardened materials. In addition, polishing time after milling will be shortened by 50% or more because of the excellent surface roughness.
The cBN "Mold Finish Master" is applicable to a wide range of mold & die materials such as pre-hardened steel and high hardness steel.
Size range:
R 0.2~R 1.0mm, 5 sizes. Two shank sizes; 4 and 6mm.
Total of 10 items.
Sales Target:
In 2006, 100 million yen
Sales start:
May 10th, 2006