News Releases
July, 2006
NACHI-FUJIKOSHI CORP.
Expand the production of high function and long life bearings based on special steel technology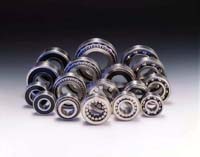 Led by price hikes of crude oil, needs for fuel-efficient cars are increasing. Japanese automobile manufactures have focused on development of hybrid engines, multiple gear transmissions, and lighter transmissions.

NACHI-FUJIKOSHI CORP. has developed its technologies in a variety of fields including special steels, heat treatment, machinery, and components. Taking advantage of its combined business, the company has established a stable position in the manufacturing industry. In order to manufacture our transmission bearings, the original steels such as "MT steel" and "MS steel" are applied as materials and specialized hear treatment is also made. In this way, the company can offer light and compact bearings, capable of resisting heat and fatigue under the sever conditions. The company is developing the usage of MT steel bearings and MS steel bearings not only for transmissions but also for industrial machines, which requires the durability. Those include printing machines and paper manufacturing machines. By 2008, the annual sales will be targeted at 5 billion yen twice this year.