News Releases
November 2, 2006
NACHI-FUJIKOSHI CORP.
Sumitomo Electric Hardmetal Corporation
Extending the Global Standard Carbide End Mill Series Brand Line:"GS Mill Radius," "GS Mill Slot" and "GS Mill Heavy"
NACHI-FUJIKOSHI and Sumitomo Electric Hardmetal have extended their "GS Mill Series" brand line to include the "GS Mill Radius," "GS Mill Slot" and "GS Mill Heavy." Nine products including newly developed ones extend the GS Mill series brand line thereby providing a wide range of support to meet the sophisticated demands of their customers.

In 1999, NACHI-FUJIKOSHI CORP. formed an all-inclusive partnership in the cutting tool business with Sumitomo Electric Industries Ltd., the parent company of the Sumitomo Electric Hardmetal Corp. They have furthered and deepened their partnership in wider areas including product development, manufacturing, sales and services. In particular, collaboration in product development has achieved excellent results with 21 common products including the three new GS Mill products.
GS Mill Radius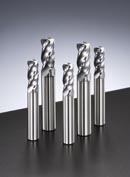 Applications: For highly efficient milling of side metal components, rough processing of die sinking and other milling work on dies/molds and machine components (from raw materials to super-hardened materials, up to 60HRc).. Range of applicable sizes: 29 sizes ranging between o3.0 x R0.2 and o16.0 x R2.0
GS Mill Slot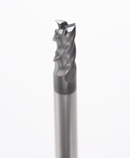 Applications: For high efficiency pocket milling and other milling work on machine components (from soft or low carbon steel to mild hardness steel, up to 50HRc), dies/molds and other metal components. Range of applicable sizes: 8 sizes ranging between o3.0 and o16.0
GS Mill Heavy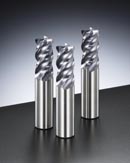 Applications: For high efficiency semi-finishing and other milling work on machine components (from soft or low carbon steel to mild hardness steel, up to 50HRc), dies/molds and other metal components.
Range of applicable sizes: 7 sizes ranging between o6.0 and o20.0