News Releases
November 20, 2007
NACHI-Fujikoshi
The newly developed Presto MR20 platform robot of 7-axis vertical articulated type Expands the market of industrial machinery with the Flexible Hand and Vision Sensor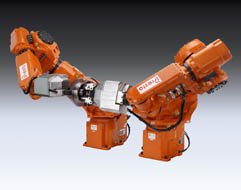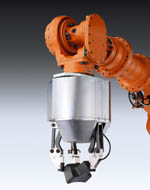 Nachi-Fujikoshi has developed Presto MR20. It is a new platform robot that is capable of complex work with its 7-axis mechanism that resembles a human hand. Together with the Flexible Hand that can grab various workpieces and the Vision Sensor that serves as an eye, the whole set will be introduced to the market to develop a larger market of industrial machinery and other markets.
*Presto (meaning quick) is Nachi-Fujikoshi's brand for middle to small size robots.
1. Features of Nachi-Fujikosh's robotic business
(1) Demonstrating strength in the area of manufacturing
Our robots boast world top-class performance and market share in the area of manufacturing such as welding, delivery and processing utilizing mechanical and control technologies that we have fostered in our mechanical processing and functional component business.
(2) Accumulating application technology and know-how in various plants and processes
in the Nachi-Fujikoshi group
As many as 300 internally-produced robots have been actively introduced to production lines of cutting tools, bearings, hydraulic equipment and special steel. In pursuit of improved productivity and quality by automation, Nachi-Fujikoshi has been striving for accumulation of application technology and know-how in addition to development and improvement of robot and element technologies. These efforts resulted in the development of the PrestoMR20 together with the Flexible Hand and the Vision Sensor that hit the market after repeated testing and improvement during use in our plants.
2. Market trend of industrial robots
(1) Increased demand in the area of industrial machines
Previously, automobile, electric and electronic industries were fast in adopting robots to lead manufacturing in Japan. At the same time, the wide range of general industry that supports the leading industries is still behind in terms of robotization. It is expected that demand for robots in the area of industrial machinery will rise in the future seeking automatization to cope with labor shortages, cost reduction and quality enhancement.
(2) Applications and needs diversified
In the growing robot market, more complex and diversified tasks are required of robots including mechanical processing, assembly, and palletizing, in addition to conventional applications such as welding and delivery. In response to these needs, key focuses will include (1) improvement of the performance of robots, (2) hand and sensor technologies, and (3) high-level application development.
3. Features of PrestoMR20
(1)Flexible and compact arm of 7-axis vertical articulated mechanism
A joint was added to the 6-axis articulated type that is generally seen in the market. The 7-axis mechanism enables flexible moves more resembling the human arm. Particularly noted is loading and unloading to a machine tool (placing and removing of workpieces). PrestoMR20 is capable of operating from the side of the machine tool, unlike the conventional models that operate from the front of the machine. This resulted in better operability, more efficiency in set-up and maintenance, and less space required between machines. (less than half compared with the case using 6-axis models).
(2)Large wrist torque handles up to 30 kg
The torque of the end-piece (wrist) of the robot was strengthened twice as much compared to the conventional 6-axis robots, enabling it to handle 20 kg with standard specifications, and up to 30 kg with specific operating-range setting. (The conventional type only accommodates up to 15 kg.) The increased weight capacity allows more variety of hands, which will contribute to enlarge the scope of application.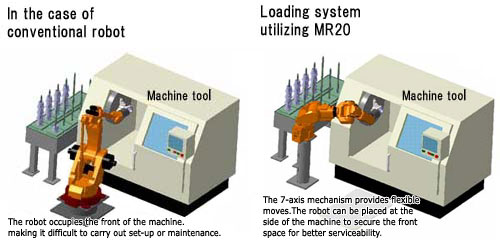 4. Enhancement of robotic element technology
Increased flexibility and reliability achieved by combining PrestoMR20
with the Flexible Hand and Vision Sensor

(1) Development of the Flexible Hand
The Flexible Hand that accommodates any geometry was developed as a hand that grabs a variety of workpieces ranging from mechanical parts, sheet metal parts, to resin parts. Non-step configuration of direction and stroke (up to 200 mm) may be made depending on different shapes and sizes of workpieces. This eliminates replacement of hands allowing synchronous control by the same controller of the robot. Consideration was also given to safety and quality issues represented in features such as the new mechanism that prevents workpieces from falling by keeping the gripping power during emergency shutdown or when the robot is powered down.
(2) Enhancement of the Vision Sensor
By mounting a Vision Sensor (NV-AX) that serves as human eyes, the shape, location, tilt etc. of workpieces in the stocker will be instantly recognized. The feature will allow bulk handling of the workpieces eliminating the operator's task of sorting them. Also available is the 3D sensor function (stereo vision, cross laser, laser scanning etc.) that has a high recognition ability without being susceptible to ambient environment (brightness and background).
5. Future efforts
(1) Hitting the market as a three-piece set
The three-piece set of PrestoMR20, Flexible Hand and Vision Sensor will be exhibited at the 2007 International Robot Exhibition (November 28 through December 1, 2007) demonstrating the sophisticated applications. Sales will be launched at this time. We will promote the sales by working with partner corporations inside and outside of Japan including Nachi Robot System Association (consisting of 25 member companies), Overseas System Partner Association (40 members) and Association of Facilities Distributors (40 members). The promotional efforts will focus on the industrial machinery sector.
(2) New platform robot series
With the modulized basic platform, PrestoMR20 facilitated its development into a series of models. Three more types in the series will be developed in 2008 for larger scope of applications.
(3) Sales target (2010)
PrestoMR20:500/year
New platform robots as a whole: 1000/year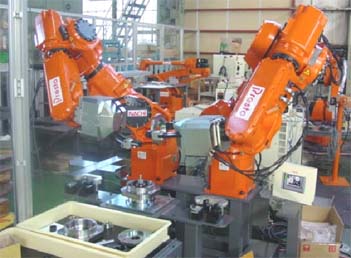 PrestoMR20 in service with Flexible Hand
The two units in coordination, assembling parts for an industrial machine