News Releases
January 16, 2008
NACHI-Fujikoshi
Expanding the business of precision bearing for industrial machinery(Reporter's note)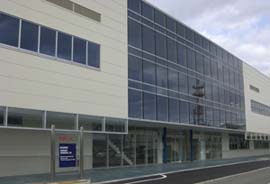 Nachi-Fujikoshi recently built a new factory dedicated to precision bearing production. Having stared full-scale production in January 2008, the factory can respond to robust demand for precision bearings for industrial machinery as well as demand for an increasingly high-level of quality. Nachi-Fujikoshi aims at a 40% increase in the sales of precision bearings by 2010.
1. Demand growth for precision bearings
(1) Features of Nachi-Fujikoshi precision bearing for industrial machinery
Taking advantage of the connective business
Nachi-Fujikoshi is strong in high-precision, sophisticated bearings that are highly unique for leveraging our material/heat treatment technology and machine processing technology that is exemplified in special steel, heat-treatment equipment and grinding machine, all manufactured internally. Our company has machine tool, ultraprecision processing machine, and robot departments which contribute prompt feedback of appropriate evaluations of the products for further development and improvement. We have established a particularly strong position as a manufacturer of bearings for industrial machinery such as precision printing machines, railcars, and construction machinery. Examples include: precision bearings that support ball screws serving as a feeding devise for machine tools and other machines; and thin section bearings to be incorporated in reduction gears.
(2) Trends in the industrial machinery sector
Increased demand of precision bearings for industrial machinery
In addition to the market growth in machine tools, injection molding machines, precision measuring instruments and semiconductor equipment, increases of electric models contributed to a larger demand for ball screw support bearings. As for reduction gears, they have been positively employed in new markets such as robots and automobiles. It is expected that this trend will result in significant growth of the thin section bearing market.
Higher precision and further sophistication
Increased capability of more precise positioning and more powerful thrust has been required of ball screws incorporated in machine tools or injection mold machines. Accordingly, precision bearings that support ball screws need to have higher precision and rigidity, and to stand higher load.
2. Features of the new factory for precision bearings
(1) To respond to the robust demand by increased manufacturing
capacity of precision bearings (up 40% from 2007)
Drastic increase in production capacity will be achieved by the newly-built factory that ensures sufficient space to relocate and reinforce production lines of ball screw support bearings, other precision bearings and thin section bearings. In addition, the existing bearing factory is now assigned exclusively for precision roller bearings for printing machines etc. The production lines will be reorganized and enhanced accordingly.
Ball screw support bearings: Up 50% by 2010 compared with 2007
Thin section bearings: up 40%
Other precision bearings (ball, roller): up 30%
(2) To further enhance productivity and cost reduction
Productivity will be improved by about 3 times by building automated production lines including replacing manual equipment to automatic equipment, thus streamlining duties and reducing labor to achieve improved production costs.
(3) To improve quality through new production methods and material/heat treatment
Our most advanced grinding machines will be introduced. In addition, the existing machines will be modified to improve the precision of the grinding surface and efficiency of processing.
For bearings that are required to accommodate high loads and rigidity, proprietary bearing steel and special heat treatment will be adopted for more sophistication and longer life.
(4) Environmentally-responsive production lines
Centralized coolant system, oil temperature regulator and mist collector were introduced. Equipment to separate, collect and clean grinding dust will be introduced for recycling for environmental considerations.
The grinding machine will be powered by an energy-saving hydraulic unit produced in-house to reduce power consumption.
3. Outline of the new factory
Floor area: Two-stories with extended area of 6,100 m2 (First floor: 4800 m2)
Processing lines: See the attached outline layout sketch
Number of employees: 100
Amount of investment: approx. 3 billion yen (for the period between 2007 and 2010)
4. Future business plan
In addition to precision bearings and thin section bearings, for which the production capacity has recently been improved, more emphasis will be put on other bearings for industrial machinery such as self-aligning roller bearings to respond to the strong demands. We aim at enlarging the proportion of the business of bearings for industrial machinery in relation to the total sales to 40% by 2010 from 30% in 2007.