News Releases
Aug 10, 2009
NACHI-Fujikoshi
Launch of flexible motion 7-axis arm robots Presto MR35 and MC50
and powerful and compact Presto MC35, MC50, and MC70
robots for diverse manufacturing applications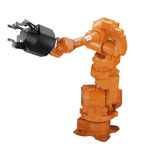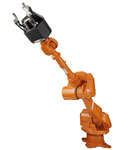 NACHI- FUJIKOSHI Corp. has developed five new Presto robots: the seven-axis, flexible motion mid-weight payload MR35 and MR50 robots and the powerful and compact, wide-reach, six-axis MC35, MC50, and MC70 robots. These new models went on sale in July 2009.
Following the debut last year of the light (20 kg) payload MR20 and MC 20, these latest robots extend the Presto line up into the mid-weight (35-70 kg) payload category. Now, in the industrial machinery sector and beyond, using robots you can automate tasks across a wide range including transport, assembly, and machining. All kinds of industrial users are sure to find a place for Presto robots.
Presto MR Series 7-axis arm robots
Presto MC Series 6-axis powerful and compact robots
1. Special features of NACHI FUJIKOSHI robot business
(1) Demonstrating strength in industrial crafting
Incorporating control technology, NACHI FUJIKOSHI robots embody seasoned mechanical technology built up in the machining and functional parts business. For welding, transport, machining and other applications in the industrial crafting sector, our robots provide world-class capabilities and own a major share of the global market.
(2) Can be used in diverse situations to meet various needs
Owing to advantages such as work productivity, automation (reduced labor, energy saving), and quality improvement, in the industrial craft sector, demand for robots has been rising. In addition to the mainstay tasks of welding and transport, makers are seeking robots to perform more complex and diverse tasks such as machining, assembly, and palletizing. To respond to these needs, we have been meeting the challenges by developing: i) highly functional units; ii) high-level applications; and iii) crucial components, such as hand and sensor sechnology.
(3) Providing application technology and knowhow accumulated in every process at each plant in our Group
At our own plants, we have been installing our own robots (about 300 units) in facilities that make cutting tools, bearings, hydraulic equipment, special steels, and other products. While these have been driving improvements in both productivity and quality, they have also enabled the accumulation of application technology and knowhow. Similarly, the recently developed Presto models were also initially introduced in our own facilities, where they underwent repeated testing and refinement to the point where they are now capable of excellent performance in diverse applications.
2. Special features of the MC35, MC50, and MC70
(1) Wide reach from a compact footprint
Compared with previous models in the same payload category, the adoption of a new platform and optimization of the motor and gears has enabled the width to be reduced by 30% and the frame radius of interference to be shrunk by 40%, even while the back and forth stroke has been extended by 20%. This has radically improved layout flexibility for robot installation. (MC50: total width, 595 mm; frame radius of interference, 360 mm; back and forth stroke, 1,592 mm)
(2) Powerful wrist torque enables handling of up to 70 kg. Now, as well as models with 35 and 50 kg payloads, the series now features a 70 kg model with an additional 40% more torque at the end joint (wrist) of the robot arm. For diverse types of work, this enables flexible handling at longer distances.
(3) Highly practical design
Fitted with dual air-piping system, it is possible to meet the needs of a wide range of applications. Moreover, because the wiring for tools to drive the servo motors is built in, there is no interference with peripheral equipment: this simplifies layout and makes installation easier.
3. Special features of the MR35 and MR50
(1) Seven-axis arm robot enables more complex motion In addition to the outstanding specifications of the Presto MC35 and MC50, the MR models feature another axis in the wrist joint. This enables complex motions that more closely resemble the movements of the human arm and greatly facilitates the placement and removal of work pieces by robots positioned away from the access openings of machine tools. When you free up space in this working area, you enhance general operability, and make set-up, maintenance, and other operations easier. It is also possible to save space by positioning units closer together.
4. Ongoing activities
(1) Strengthening of sales organization
Small and mid-sized orders are actively sought using the distribution network (about 3,000 companies) for tools, bearings, and other NACHI products.
System response is being strengthened through tie ups with members of the NACHI System Alliance (25 companies in Japan and 25 overseas).
Private demonstrations are being planned for machine tool makers, agents, and other prospective buyers and dealers.
(2) Sales target (FY 2010)
Presto MR35, MR50, MC35, MC50, and MC70: 500 units
Total for Presto MR and MC Series: 1,000 units
(3) Price per unit
MR50: JPY 6,200,000
MC50: JPY 4,600,000