News Releases
January , 2010
NACHI-Fujikoshi
Presto LP130 and LP180 4-Axis Palletizing Robots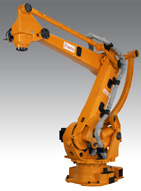 Nachi-Fujikoshi has developed and introduced the Presto LP130 and LP180 4-axis palletizing robots, which offer agile, flexible movement and a large operating range with high throughput capacity. These robots are especially recommended for newly emerging countries to automate and robotize the handling of material.
Features of the Presto LP130 and LP180
High-speed palletizing
The robot body is designed to be lightweight and highly rigid. It is equipped with the latest motor drive, vibration suppression, and other control technologies. It can process at the high speed of 1,500 packages per hour (for 130 kg loads) to boost conveyance efficiency.
Flexible system setup available with 130-kg or 180-kg capacity
Two types of robots - with a lighter 130-kg or heavier 180-kg capacity - are part of this series, offering greater flexibility in establishing a palletizing system to match a diverse range of work or hand unit.
Large operating range with compact footprint
The large operating envelope offers a maximum reach of 3.2 meters and a loading height of 2.7 meters, while the swivel interference radius (lower part of the robot) is just 560 mm. This compact design allows great freedom in designing the system layout.
Easy palletizing operation
The robot is equipped with an automatic program generator. Simply input the work dimensions and select a pallet loading pattern. Dedicated functions are built in, such as "double stacking prevention" and "work height correction" to adjust for thickness changes in bag cargo due to its own weight. These functions make setup and teaching easy. In addition, with the use of the "AXonDESK" simulation software, it is now possible to write programs as well as check stowage of cargo or cycle times on a PC.
Target Markets and Future Efforts
Newly Emerging Countries and the Infrastructure Market
With the new LP series of palletizing robots recently introduced to the marketplace, Nachi-Fujikoshi is working to develop business in the infrastructure market and newly emerging countries where high growth is anticipated.
Exhibiting at METALEX 2009, Working with Emerging Countries
A high-speed palletizing system using the LP130 was exhibited at METALEX 2009 (Bangkok, November 19-22). The system was favorably received by manufacturers and distributors in a wide range of markets in the Asian region, and many unofficial orders were taken and inquiries received at the event.
Entering New Markets
We propose the use of these palletizing robots in combination with our new platform arm robots, like our Presto MR and MC series, to build a system for a solar panel conveyance line and a packaging line. Our further efforts include developing new markets such as food, pharmaceuticals, and cosmetics by strengthening our partnerships both inside and outside of Japan with members of the Nachi Robot System Association (consisting of 25 member companies in Japan) and the Overseas System Partner Association (40 companies abroad).
Date of introduction: Shipping in December 2009
Sales goal: ¥1 billion in fiscal 2010
Features of Nachi-Fujikoshi's Robot Business
Meeting Needs in Industrial Machinery and a Wide Range of Manufacturing ProcessesWe expect the demand for robots in the manufacturing field to grow both in Japan and worldwide since robots help to streamline production, lower costs, and improve quality. In addition to conventional uses in welding and conveyance, robots are now being used in machining, assembly, palletizing and other areas. These uses require robots that are capable of handling complex, diverse tasks.
To meet these needs, we have persevered in accumulating advanced systems engineering expertise, have sophisticated robot bodies as well as the performance of control units and controller technology, and have developed improved elemental technologies for hand units and sensors and the like, in addition to diverse applications.
Systems Engineering Expertise Accumulated through Each Factory and Process in the GroupWe actively use our own robots (approximately 300) in our production lines for manufacturing such products as cutting tools, bearings, hydraulic machinery, and special steel. In the process of promoting higher productivity and quality through automation, we not only are continuously developing and improving robotic equipment and elemental technologies but we are also accumulating application technologies and know-how. We provide flexible, easy-to-use automated systems, drawing upon our advanced systems engineering expertise combined with the hand units and peripheral equipment that have contributed to our automation through use in diverse in-house manufacturing processes.