News Releases
October , 2011
NACHI-Fujikoshi
Strengthening Production Capacity of Christmas Broaches (Report Memo)
Nachi-Fujikoshi is strengthening its production capacity of Christmas broaches, which enable high precision grooving of gas turbines, in order to respond to the sharp increase in demand for aircraft and power generators.
1. What is a Christmas Broach?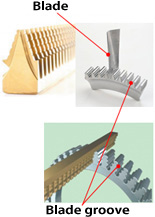 The grooves that hold blades onto a turbine disk are shaped like a Christmas tree and the tool that mills this shape with high precision is called a Christmas broach.
2. Features of Our Christmas Broaches
Our Christmas broaches combine long life and high reliability in addition to the following:
Improved chip removal efficiency by utilizing stress analysis to optimize the shape of the cutting edge
Use of HSS material developed in-house that improves resistance to wear and impacts
We provide total support for broach cutting through development and manufacture of broaching machines
These features have led to a share in excess of 30% in the international market.
3. Increasing Demand
Market demand for aircraft and power generators, which are the main applications of turbines, is expected to increase into the foreseeable future. In the aircraft market in particular, medium to long term demand for Christmas broaches, which are used in the machining of jet engines, is likely to grow due to an increase of passenger services in developing nations, the expansion of discount airlines, and the introduction of new aircraft models that aim to provide improved fuel efficiency.
4. Strengthening of Production Capacity

We intend to install specialized Christmas broach machining equipment in our broach factory located at the Toyama plant in order to increase production capacity. In addition, we intend to improve productivity by reviewing the establishment of size-based multi-line production as well as equipment layout and pursuing the mechanization and automation of manual procedures, which previously relied on skilled workers.
Equipment investment value
500 million yen
Equipment investment details
Surface grinding machines, gear grinding machines, layout changes, etc.
Effect of equipment investment
Increased production starting from June 2012 and production capacity to reach 1.5 times by January 2013.
Sales: 100 million yen → 150 million yen per month
NACHI-FUJIKOSHI CORP.