News Releases
November 4 , 2011
NACHI-Fujikoshi
"Reaching Speeds that Provide the Edge on the International Stage"
Simultaneous Worldwide Launch of the SRA Series
of Ultra-fast Spot Welding Robots
Nachi-Fujikoshi has rejuvenated the spot welding robot by developing the "SRA Series" of ultra-fast spot welding robots that elevate lightweight design, high rigidity, and high speed control to the next level. This new series will be launched simultaneously worldwide from November. The addition of this robot to spot welding processes of customers such as automotive manufacturers will dramatically reduce cycle times, significantly improve productivity, and achieve cost reductions.
1. Development Background
Until now, automotive manufacturers in Japan, Europe, and America have been moving towards robotization of car body welding processes for automobiles and every year there is a growing need to increase robot speed in order to improve productivity. Moreover, automotive manufacturers in developing nations, such as China, are introducing robots to replace welding processes that were previously performed manually in order to increase production volume and improve quality.
2. Development Background
(1) Dramatic increase in the speed of spot welding operations
The newly designed structure of the robot main body enables both a reduction in weight (20% reduction on our previous models) in addition to high rigidity and significantly improves acceleration performance and vibration suppression of robot operations. In combination with the newly developed control system, the cycle time of spot welding processes has been reduced by 30% compared to previous models.
We also now offer simulation software that can verify cycle times on a PC prior to the introduction of robots.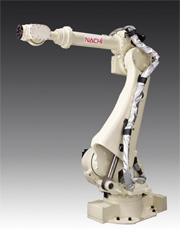 (2) Pursuit of high precision repeatability
The SRA series allows more precise work to be performed by employing high speed motor control and the latest component parts that yield a twofold increase in positional repeatability of the robot motion when compared to previous models.
(3) Space-saving on the production line
The streamlined robot main body allows a higher density of robot placement that contributes to space-saving on the production line (15% reduction in production line length compared to previous models).
(4) Improved energy efficiency
The lightweight robot main body and latest motor control system reduce power consumption by 15% compared to previous models.
3. Future Undertakings
Product release:
The following models will be launched simultaneously worldwide from November, 2011.
·SRA166 (weight capacity: 166kg)
·SRA210 (weight capacity: 210kg)
(Exhibited at the International Robot Exhibition 2011 held from November 9)
We intend to further expand our lineup of robots.
Sales target: We aim to sell 3,000 units in a year for the entire SRA series.
NACHI-FUJIKOSHI CORP.