News Releases
January 19 , 2012
NACHI-Fujikoshi
Nachi Fujikoshi to Establish New Production Site in China
(Zhangjiagang, Jiangsu Province)
Nachi Fujikoshi has decided to establish a new production site in Zhangjiagang, Jiangsu Province, China to serve as the core of its future operations in China. The company also aims to ramp up production of hydraulic equipment and precision tools aimed at automobiles, construction equipment and machine tools for which demand is expected to increase in the medium- to long-term in an effort to expand the scope of its business.
1.Trends in the Chinese market
(1) In the automotive industry, motor vehicles are becoming more advanced with lower fuel consumption and improved comfort, and production lines are becoming more efficient and precise, resulting in increased needs for the latest production facilities and components. Because of this, there is growing demand for the automotive hydraulics (car control valves) incorporated into transmissions, the precision equipment and machine tools required for machining lines, and machine tool hydraulics.
(2) In the construction equipment market, there is expected to be an increase in infrastructure related to urbanization, such as residence and water supply over the medium- to long-term, and increased needs for compact and smaller hydraulic shovels are expected to cause growth in demand for hydraulic devices used in construction equipment.
Nachi Fujikoshi will establish a new core site for local production in Zhangjiagang, establish a supply system and work to further strengthen competitiveness in terms of quality and cost in order to respond to the increased demand for such products.
2.Overview of the new company
| | | | |
| --- | --- | --- | --- |
| (1) | Company name | : | NACHI (JIANGSU) INDUSTRIES CO., LTD. |
| (2) | Address | : | Zhangjiagang Economic Development Zone, Zhangjiagang, Jiangsu Province, China |
| (3) | Businesses | : | Manufacture and sale of hydraulic devices and precision tools for automotive, construction equipment and machine tool use |
| (4) | Capital | : | USD18 million (Approx. JPY1.3 billion) |
| (5) | Total investment | : | Approx. JPY4 billion (as of 2015) |
| (6) | Established | : | February 2012 |
| (7) | Site size | : | Approx. 54,000m2 |
| (8) | Floor space | : | Approx. 35,000m2 (as of 2015) |
| (9) | Employees | : | Approx. 200 (as of end of 2015) |
3.Future business plan and construction schedule
| | | | |
| --- | --- | --- | --- |
| · | Business scale | : | Sales are expected to be valued at JPY10 billion in FY2015 |
| · | Construction schedule | : | Signing and groundbreaking ceremony on January 30, 2012. Work begins in June and is scheduled to be complete in January 2013. |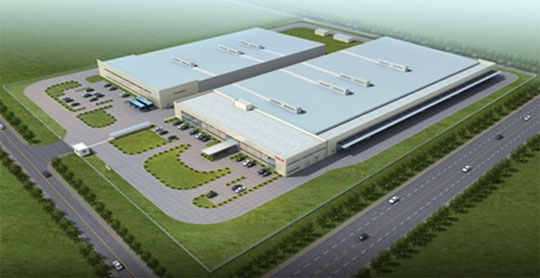 Rendering of the new plant
END