News Releases
July 4 , 2012
NACHI-Fujikoshi
Nachi-Fujikoshi's New Production Base:
Major Expansion of Bearing-related Business Operations in India
Nachi-Fujikoshi has established a new subsidiary in India, Nachi KG Technology India Private Limited (NKTI), to begin the local production of bearings for local consumption. This step is being taken to fully promote our bearing-related business in the Indian market, where motor vehicle use is growing, infrastructure is being developed, and industries are modernizing in a country forecast to enjoy extensive economic growth over the medium to long term.
NKTI was launched as a joint venture with KG International FZCO (head office: Dubai), and will be involved in both the manufacture and the sale of bearings.
Nachi-Fujikoshi will use NKTI as a base to begin the local production of bearings for industrial machinery and motor vehicles in India, a country experiencing dramatic growth. Thus, we will be promoting acceptance of the Nachi brand in India's bearing market.
NKTI is Nachi-Fujikoshi's third production subsidiary to be established in India.
1.The new company: Profile
Company name
:
Nachi KG Technology India Private Limited
Address
:
Neemrana Industrial Area, Rajasthan, India (approx. 120 km southwest of Delhi)
Launch of business operations
:
July 2013
Capitalization
:
600 million rupees (approx. 960 million Japanese yen)
Investment ratio
:
Nachi-Fujikoshi 51%; KG International 49%
Total amount invested
:
Approx. 2 billion yen (by 2015)
Lot area
:
Approx. 40,000 m2
Floor area
: Approx. 7,000 m2
Number of employees
:
Approx. 120 (by end of 2015)
Manufactured products
:
Bearings for industrial machinery and motor vehicles
2.Production plans and factory construction schedule
| | | | |
| --- | --- | --- | --- |
| · | Production volume | : | Targeting the manufacture of 1 million units per month in FY2015 |
| · | Factory construction | : | Begun in July 2012; to be completed in March 2013 |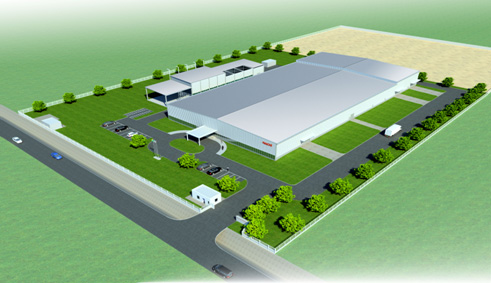 Artist's rendition of new factory upon completion
< KG International FZCO >
KG International is one of the world's most influential companies in the bearing business. The company is headquartered in Dubai, U.A.E., and is actively involved in developing business opportunities in India's rapidly growing market.
END