News Releases
July 17 , 2012
NACHI-Fujikoshi
Nachi-Fujikoshi launches burrless, multi-functional "SG Flat Drill"
Nachi-Fujikoshi has been selling the "Aqua Drill EX Flat" offering high performance in counter boring, hole drilling on sloped surfaces and burrless drilling since 2010. We have recently expanded the Flat series and launched the new, large diameter "SG Flat Drill." It will contribute to improving productivity of large parts used in construction and power generating machines which will see increased demand in the months and years ahead.
1. Background behind development
Much drilling of large parts is required in energy- and infrastructure-related manufacturing fields. There is an increasing need to control burrs generated when drilling counter bore holes for attaching bolts, holes on curved and sloped surfaces and through holes.
Flat drills help control the generation of burrs when penetrating, so they can substantially reduce the amount of work time in later processes such as the removal of exit burrs. Moreover, it is also possible to improve the efficiency of counter boring, which used to be done with end mills, and consolidate preparatory processes which were required for drilling holes on sloped surfaces.
Compared to the previously available "Aqua Drill EX Flat" carbide drill series, the "SG Flat Drill" offers burrless drilling while maintaining rigidity in the realm of large diameters by using high alloy HSS, leveraging our proprietary material technology.
2. SG Flat Drill features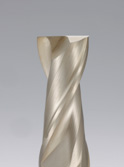 (1) 180° flat drill turns conventional wisdom concerning hole drilling on its head
Making the drill point angle 180° prevents it from slipping when drilling holes into sloped surfaces and provides excellent drilling accuracy.
It also controls exit burrs caused by the point angle, which is a problem with regular drills, and enables high value-added drilling.
(2) Controls hole enlargement and allows high-accuracy flat-bottom hole drilling
The optimal rigidity for drilling and the profile shape which provides excellent cutting chip discharge allow stable counter boring with twice the efficiency of HSS end mills.
3. Extensive size lineup and pricing
·
Diameter
:
69 dimensions from 16 mm to 50 mm in increments of 0.5 mm
·
Price(examples)
:
17,800 yen for SGEZ20.0 model
45,800 yen for SGEZ32.0 model
4. Launch date and sales target
·
Launch of sales
:
June 21, 2012
·
Sales target
:
We will expand the Flat series and aim for annual sales of ¥1.5 billion (fiscal 2013).
(Fiscal 2011 sales: ¥600 million)
*Flat series
(1)Aqua Drill EX Flat: Small and medium diameters (launched in 2010)
(2)SG Flat Drill: Large diameters (newly launched)
END