News Releases
September 19 , 2012
NACHI-Fujikoshi
Nachi-Fujikoshi introduces high-speed, compact heavy duty handling robot "MC350"
Improves efficiency of production lines in automotive/industrial machinery fields
Nachi-Fujikoshi developed the "MC350" (handles up to 350 kg), a high-speed, compact heavy duty handling robot with high handling capacity and a wide motion range, and officially brought it to market in August. Leveraging our excellent high-speed heavy duty handling robot technology, we help bring greater efficiency to production lines handling diverse processes for a broad spectrum of customers in automotive, industrial machinery and other fields.
1. Market needs and characteristics of our robot business
At present, on top of improved quality, the need for improved productivity through reduced cycle time, reduced costs through lower manpower requirements and space savings, and flexibility is intensifying on production lines in the automotive and industrial machinery fields. The shift to advanced robots from manual labor and specialized equipment is gaining momentum.
At Nachi-Fujikoshi, we have leveraged our mechanical and control technology cultivated in our machine tool and parts businesses to develop robot series targeting welding, conveyance, machining and other processes in the automotive and industrial machinery fields. These robots have been well-received by the market.
We have installed our robots on several of our own internal production lines, including cutting tools, bearings, hydraulic equipment and special steel, to promote productivity, improved quality and reduced costs. At the same time, we have engaged in efforts to increase the speed, function and compactness of the robots themselves and their control devices, improve our system engineering capabilities, and develop elemental technology, including diverse applications, hands and sensors. We offer this technology and know-how that we have cultivated in-house to our customers, thus meeting the increasingly sophisticated needs of the market.
2. MC350 features
(1) Highest speed in its class reduces cycle time by 10-15%
Thanks to a combination of weight-saving/high rigidity design utilizing CAE and an FD controller featuring the latest in motor control, we have been able to achieve the highest speed in the 350 kg handling class. Cycle time has been reduced 10% compared to our previous robots, and 15% for long-stroke motions (Nachi-Fujikoshi specified motion sequence), greatly contributing to improved productivity.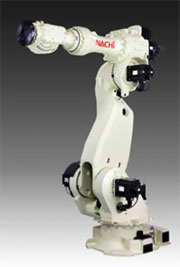 (2) Compact with wide operating range
This heavy duty handling robot does not employ a regular linkage mechanism or counter weights, and the balancer mechanism has been placed inside the robot arm, resulting in streamlining and space savings (swivel interference radius: 10% reduction compared to previous robots). At the same time, the operating range has been increased so that the maximum reach is about 10% greater than previous robots. The space savings and increased operating range offered make it easier to design a highly efficient line.
(3) Substantial wrist torque
Wrist torque, essential for heavy duty handling, has been substantially increased. In the past, there were cases where it was necessary to use a robot with a larger handling capacity than the actual workpiece weight (e.g. 400-500 kg capacity to handle a workpiece weighing less than 350 kg) due to the shape placing extra load on the wrist, but thanks to dramatically increased wrist torque-165% compared to previous robots-this robot is capable of handling a wide range of shapes.
(4) Highly precise repeat accuracy
We have increased rigidity and improved the elemental components of the robot itself, increasing the operating position repeat accuracy by 2.5 times compared to previous robots and achieving precise positioning when handling heavy workpieces.
3. Future efforts
(1) Expansion of efforts targeting automotive field
Combining the robot with the "Super Fast Spot Welding Robot SRA Series" contributes greatly to shortened cycle times and improved productivity on automotive assembly lines. We will use this advantage to promote market cultivation targeting automobile manufacturers in Japan, Europe and the United States as well as in China and other emerging countries where there is rapidly growing demand.
(2) Gradual expansion of heavy duty handling type lineup
We will develop other models for our series of high-speed, compact, high-accuracy heavy duty handling robots.
(3) Launch of sales: August 2012
(4) Sales target: 500 units/year (fiscal 2013)
END