News Releases
October 5 , 2012
NACHI-Fujikoshi
Nachi-Fujikoshi launches high-efficiency,
high-performance HSS "SG-ESR Drill"
The new "SG-ESR Drill" has been added to the lineup in the Nachi-Fujikoshi high-performance HSS SG Drill series. Sales were launched in September.
In addition to the high-precision and long life of the SG Drill series, the "SG-ESR Drill" features substantially improved discharge of cutting chips while drilling, which enables high cutting performance in a wide range of applications, from carbon steel and alloyed steel to structural steel, stainless steel and titanium alloys.
1. Market for high-performance HSS drills is expanding
In the domestic HSS drill market, the high-performance type offering high precision and long life has become mainstream, and many companies have replaced their old type* drills. Drilling technology is becoming increasingly modernized in emerging countries and other overseas markets as well, so demand for the high-performance type is expected to grow.
In response to this trend, we brought our SG Drill series (two lines) to market and earned favorable reviews for their use in parts and die machining in the automotive, industrial/construction machinery and electrical machinery/electronics fields. This time, we have further expanded our lineup to respond to increasing domestic and international demand.
*Old type: Non-coated drills using general dissolution HSS
2. SG-ESR drill features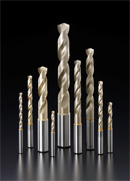 (1) Optimum shape design for wide range of work material
Thanks to a new groove shape providing a high-level balance between rigidity and cutting chip discharge, the drill is capable of generating chips with extraordinary curling and fragmenting characteristics and offers a high level of discharge performance with a wide range of work material, from soft steel to alloyed and stainless steel, taking drilling stability to the next level.
(2) Long life provided by SG coating and high-alloy powder HSS
The use of high-alloy powder HSS material and an "SG coating" that offers superior resistance to heat and wear gives this HSS drill the highest level of longevity.
(3) Stable, high-precision drilling
The use of an end mill shank makes it possible to use high precision collets, providing stable drilling accuracy and ease of use.
3. Dimensions and pricing
·
Diameter
:
149 dimensions from 2.0 mm to 32.0 mm
·
Price(examples)
:
1,240 yen for 2.0 mm model (excluding tax)
39,500 yen for 32.0 mm model (excluding tax)
4. Launch date and sales target
| | | | |
| --- | --- | --- | --- |
| · | Launch of sales | : | September 2012 |
| · | Sales target | : | ¥1 billion per year for entire SG Drill series (fiscal 2013) |
END