News Releases
Nobember 1 , 2012
NACHI-Fujikoshi
Single machine for all gear machining processes:
Gear Shape Machining Center "GM7134"
integrated process type gear machining equipment
Nachi-Fujikoshi has developed a "Gear Shape Machining Center" that supports variable-lot production, cuts equipment costs and saves space in the plant by integrating medium to large gear machining processes in the field of energy and infrastructure.
1. Market needs
In emerging markets, demand is increasing for medium to large gears used in construction and power generating machines in conjunction with increased infrastructure investment and growing demand for power. Three machine tools are used to make gears, namely lathes (turning), machining centers (drilling, tapping, etc.) and gear shapers (gear cutting). Meanwhile, there are increasing needs on the production floor for variable-lot production support, cost reduction, space savings and complex machinery for ensuring high precision.
Nachi-Fujikoshi has developed a Gear Shape Machining Center that integrates the three processes necessary for gear machining (from turning and hole drilling to gear cutting) into a single machine tool and substantially reduces equipment costs.
2. Gear Shape Machining Center features
Integrating processes provides the following advantages over conventional machining methods:
(1) Low cost
Since the equipment cost is comparable with a conventional gear shaper, initial machine installation cost is reduced by 30%.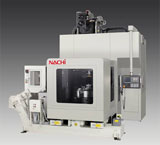 (2) Space savings
The installation space required for three machine tools is reduced by 57% (floor space: 47m2->20m2).
(3) Support for variable-lot production
The time required for changing jigs and cutting tools for different workpieces has been substantially reduced. Moreover, one-chuck machining reduces the time required to set/remove workpieces and eliminates workpiece transfer between machine tools, so the setup time is reduced by 85%.
(4) Stabilization of machining accuracy
One-chuck machining eliminates the need for centering, so stable machining accuracy can be maintained. Additionally, our high-precision cross-tapered roller bearing is used in the indexing table, providing both indexing accuracy and rotation speed.
(5) Energy savings
Integrating three processes into one machine leads to reduced consumption of power and coolant/lubricant. Moreover, our proprietary energy-saving compact variable pump unit cuts power consumption by 44% compared to conventional machines.
3. Specifications
Maximum outer turning diameter: 700 mm
Maximum drill diameter/tap size: 30/M20
Maximum diameter (external/internal teeth): 700 mm
Maximum machining face width: 200 mm
Maximum module: m8
Machine size (width × depth × height): 4,080 mm × 4,560 mm × 3,940 mm
4. Future efforts
We will expand our sales activities targeting construction machinery and gear manufacturers in aims of achieving ¥1 billion in sales in fiscal 2015.
END