News Releases
Nobember 16 , 2012
NACHI-Fujikoshi
Simplifying and streamlining production lines:
The compact and powerful MQL Power Cell "DH314"
Nachi-Fujikoshi has developed the MQL Power Cell "DH314" in response to the need for, among other things, simplification and streamlining of production lines in the automotive field, lowering of equipment costs through line downsizing, and versatile production.
1. Market needs and background behind development
In 2003, Nachi-Fujikoshi brought to market a high-efficiency, space-saving MQL Power Cell series specialized for crank shaft deep hole drilling, and we have gradually expanded the lineup since then.
< MQL Power Cell Series >
| | | | |
| --- | --- | --- | --- |
| (1) | DH524 | ··· | High-efficiency, space-saving type that utilizes MQL* and enables deep hole non-step drilling of crank shafts |
| (2) | DH514 | ··· | Compact, high-efficiency type that substantially reduces the height and depth of the machine compared to the DH524 |
| (3) | GH423 | ··· | GH423: High-output type that enables boring on top of the DH524 features and comes with an optional diameter compensation function |
In recent years, the volatility of demand in the automotive market has increased, and there has been a remarkable shift towards compact automobiles. Under these circumstances, there is an increasing need to save plant space for development of versatile lines, downsize lines for expansion of small engine production and implement visual control of line operational status. Automobile manufacturers are looking for simple and streamlined machine tools that produce high added value.
Nachi-Fujikoshi has recently added to our MQL Power Cell series the "DH314," which achieves further miniaturization while maintaining power and processing capacity/function.
2. DH314 features
(1) Achieves space savings for the processing of small crank shafts and transmission shafts
Compared to the existing "DH524," the space required for installation has been reduced 37% (floor space: 4.8m2->3m2), thus contributing to downsizing of the line. Moreover, the height has been kept under the operator's line of sight (17% reduction), making it easier to check the operational status of both the machine and the line as a whole.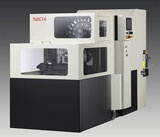 (2) Increased rigidity enables process consolidation
The new unit structure and integration of the turn table with the bed ensures equivalent or even greater rigidity compared to the existing model. Despite its small size, it is capable of milling and other types of processing on top of conventional MQL non-step deep hole drilling. Various processes can thus be consolidated, providing high added value.
(3) Energy savings
Our proprietary energy-saving compact variable pump unit provides energy savings.
3. Specifications
Machine size (width × depth × height): 1,000 mm × 3,000 mm × 1,570 mm
Stroke (X/Y/Z): 340 mm × 125 mm × 460 mm
Spindle speed: 8,000 min-1
4. Future efforts
With our four series, namely "DH524," "DH514," "DH314" and "GH423," we will deeply cultivate our relationships with Japanese automobile manufacturers and respond to the needs of automobile manufacturers around the globe, including those in emerging countries where engines and transmissions are increasingly produced domestically.
5. Sales launch
We will begin taking orders in November 2012.
6. Sales target
We aim to reach combined net sales of ¥4 billion in fiscal 2015 across all MQL Power Cell series.
END