News Releases
May 17, 2013
NACHI-Fujikoshi
Ceremony to Mark Opening of Nachi (Jiangsu) Industries Factory
 Nachi-Fujikoshi Corp. held a ceremony to mark the opening of the Nachi (Jiangsu) Industries Co., Ltd. (Zhangjiagang, Jiangsu Province, China) factory on May 15.
 The ceremony was a major event with more than 300 participants, including Xu Meijian, the Secretary-General of Zhangjiagang City; Yao Linrong, the city mayor; Zhang Wei, the deputy city mayor; numerous officials of the city government bodies; and many other Japanese and Chinese guests.
 In his speech, Nachi-Fujikoshi Corp. President Hiroo Honma said, "We came into contact with the hospitality of people in Zhangjiagang, as well as the city's atmosphere and streets, and decided to establish the major center of our business in China in this city. I would like to convey my most sincere thanks for the successful completion of the construction here and to express my appreciation toward the people involved."
 "This factory is the major center for China and East Asia and includes presentation and R&D capabilities in addition to the manufacture of products indispensable to the Chinese market, such as robots."
 "Today's first step, the beginning, is very important. We would like to contribute to the expansion of business and the technological development of our customers and suppliers in the Chinese market, home to an increasing demand for a higher functionality of motor vehicles, construction machinery, and machine tools, for factory automation and robotization, and for an energy-saving and eco-friendly movement."
Overview of NACHI (JIANGSU) INDUSTRIES CO., LTD.
| | | | |
| --- | --- | --- | --- |
| (1) | Address | : | Zhangjiagang Economic Development Zone, Zhangjiagang, Jiangsu Province, China |
| (2) | Businesses | : | Manufacture of products including precision tools, hydraulic equipments for automobiles and industrial machinery, and robots |
| (3) | Capital | : | 21 million USD |
| (4) | Start of operation | : | February 2013 |
| (5) | Site size | : | Approx. 54,000m2 |
| (6) | Floor space | : | Approx. 35,000m2 (as of 2015) |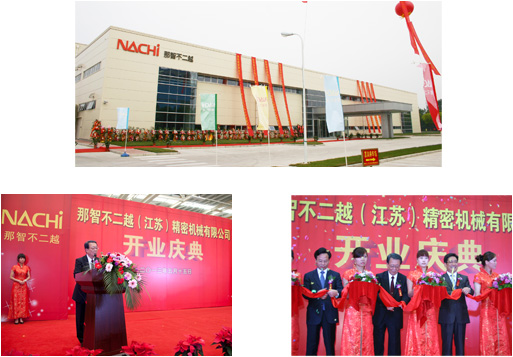 END