News Releases
October 31, 2013
NACHI-Fujikoshi
Built-in Cable Models to Be Added to
"SRA Series" of Ultra-Fast Spot Welding Robots
 In the interest of improved productivity, NACHI launched the "SRA series" ultra-fast spot welding robot in November 2011 in response to the need for higher speed welding of automotive bodies. Since then, NACHI has enjoyed great demand for the series. Now, in order to further meet the various needs of customers, NACHI is expanding the series lineup with four models that have built-in cables and hollow arms.
1. Market Demand and Development Background
 In automotive production lines, in addition to improving quality, there has been increasing demand for cost reduction and productivity improvement through such efforts as reducing cycle time and the number of operators, conserving space, and even shortening production line startup time.
 Now, NACHI is set to release the newly developed "SRA-H" models with hollow arms to the market as additions to the "SRA series" lineup of ultra-fast spot welding robots. The incorporation of application cables in the robot body simplifies robot setup as well as improves flexibility for robot installation, thus shortening the time required for production line startup.
2. Features of "SRA-H" Models with Built-in Cables
(1) Improved installation flexibility
 The hollow forearm and wrist allow for incorporation of cables that are connected to equipment installed at the end of the wrist, including spot welding guns. This allows for installation in confined spaces, which is difficult with conventional models.
(2) Improved reliability
 Stable cable movement prevents cables from being damaged by welding spatter or through interference with peripheral equipment, thus providing higher credibility.
(3) Shortened time required for production line startup
 Cable interference no longer needs to be considered, which significantly reduces robot motion simulations and operation program confirmations performed using an actual unit after installation. Thus, this feature contributes to the full-scale startup of production lines.
(4) Applicable hand expansion
 Improved wrist torque realizes a load capacity 1.5 times higher than that of conventional models, allowing for the use of large-size welding guns.
3. Wide Lineup Range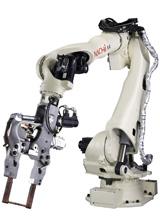 In response to the various needs of customer regarding payload, production line designing, and other factors, NACHI will release four new models into the market, including a ceiling suspension model and a long arm model.
·
SRA100H
(Payload: 100 kg, built-in cable type)
·
SRA133HL
(Payload: 133 kg,
 built-in cable type with long arm)
·
SRA220H
(Payload: 220 kg, built-in cable type)
·
SRA220HV
(Payload: 220 kg, built-in cable type
 with ceiling suspension specifications)
4. Sales Target
Worldwide launch: January 2014
 * Exhibited in the INTERNATIONAL ROBOT EXHIBITION 2013
  (Event held for four days from November 6 to 9 at Tokyo Big Sight)
Sales target for 2015: 4000 SRA series units
END