News Releases
August, 2014
NACHI-Fujikoshi
Upgrade of Energy-Saving, Compact Hydraulic Unit "Power Meister"
NACHI-Fujikoshi made a model change to its energy-saving hydraulic unit "Power Meister" that suits drive sources for stamping presses and other similar machines, in response to the increasing needs for space saving and energy saving.
1. Background of NACHI-Fujikoshi's commitments to energy saving
NACHI-Fujikoshi has expanded its product lineup and sales of energy-saving hydraulic unit products for use as drive sources for various machines and systems to achieve energy saving for machining lines. "Power Meister" released as a high-precision compact hydraulic system with its AC servo motor designed to directly drive a hydraulic pump in 2003 have been used in various fields requiring high controllability for controlling pressure of stamping presses, benders, clinching machines, injection molding machines and have made great contributions to higher performance of the machines as well as higher accuracy and quality of stamped or molded products.
<NACHI-Fujikoshi's product lineup of power-saving hydraulic units>
(1)
Stamping presses
···
90% energy saving

*

Power Meister
(high-precision positioning type)
Molding machines
80% energy saving

*

Power Fit (all-round type)
(2)
Machine tools
···
40% energy saving

*

Variable pump type NSP Series
60% energy saving

*

Inverter-driven type
NSPi, NCP and NNP Series

*As compared with NACHI-Fujikoshi's standard hydraulic units
In the meantime, further energy saving and higher power output are demanded and the needs for compacter hydraulic units are increasing along with development of compacter, space-saving design of a machine itself.
NACHI-Fujikoshi's upgrade of the energy-saving compact hydraulic unit "Power Meister" covers and meets various needs of customers.
2.Features of new product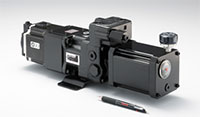 a. Further weight-saving and compacter
A new cross-sectional size, 100 mm squared, was added to the existing 130 mm and 180 mm size offerings. In comparison with the smallest size of the existing Power Meister (hereinafter referred as "Existing Model"), this new model features 43% smaller cubic volume and weighs two thirds of the Existing Model.
b. Higher energy saving performance
Power consumption is now two thirds of that of the Existing Model by virtue of improved volume efficiency and higher energy performance of the servo motor and servo amplifier installed.
c. Expansion of product lineup
The servo motor power output lineup was expanded from eight to ten power output variations with the maximum power output increased from 7.5 kW to 11.0 kW, and the pump discharge volume variations were also beefed up from seven to nine variations, which offers thirty-three combinations of motor power output and pump volume, 1.5 times more flexibility to meet the needs of customers. Furthermore, the tank volume and installation posture variations are also available as thoroughly complementary options to further flexibly cover and meet the needs of customers.
3. Launch date and sales target
| | | |
| --- | --- | --- |
| Launch of sales | : | June 2014 |
| Sales target | : | 1.5 times higher sales in industrial hydraulic equipment including Power Meister and Power Fit in fiscal 2016 than in fiscal 2013 |
END