News Releases
January 14 , 2016
NACHI-Fujikoshi
Start of Integrated Bearing Manufacturing in Thailand
In its bearing business, promoting optimally located production from a global perspective, Nachi-Fujikoshi has established Nachi Forging Technology (Thailand) Co., Ltd (NFTT), a manufacturing subsidiary, making forged and turned parts inside ASEAN market member states, where medium and long term expansion of automotive production is expected. Nachi-Fujikoshi is now promoting a "regional production for regional supply" in foreign market areas.
1.Background; Market Demand
In addition to the population increase, ASEAN member states are now experiencing rising automotive sales. With such medium and long term economic growth as a background, markets in Thailand, Indonesia and other peripheral nations such as Vietnam and Philippines are now likely to see increased automobile sales.
Among ASEAN member states, Thailand has the highest concentration of automotive industry marketing. With the world twelfth largest production capacity and its heightened role as a major exporting port, development of a region-specific strategy is critical.
2.Our Aim
"Cultivation of the growing market" is our policy for our medium term management plan. We are promoting the "regional production for regional supply" aspect through local production, focusing on developing markets including ASEAN countries where future, medium and long term growth is expected.
In 1999, the NACHI TECHNOLOGY (THAILAND) CO., LTD. (NTTC) was established in Thailand as a subsidiary to manufacture and sell bearings. NTTC then expanded the sales and production of bearings and other products in ASEAN member states.
With the establishment of the new plant in Thailand, and through the introduction of an integrated production system with in-house forging and turning, we are striving to improve the competitiveness of transportation charges, and to lower duties, taxes and other costs as well as build more stable procurement system.
Nachi Forging Technology Thailand will supply the forged and turned parts to the bearing plants in Thailand and China, and it will eventually start supplying to overseas bearing plants, including Americas.
3.Overview of Production Base
Corporate name
:
Nachi Forging Technology (Thailand) Co., Ltd (NFTT)
Address
:
Rojana Industrial Park, Rayong, Thailand
Completion of
plant construction
:
September, 2016
Beginning of operation
:
October, 2016
Commencement of
integrated production
from forgings
:
February, 2017
Capital
:
573 million Thai Baht (approx. 1,833 million Yen)
Total investment
:
1,400 million Thai Baht (approx. 4,200 million Yen) (by 2017)
Total floor area
:
Approx.14,000m2 (Site Area: approx. 80,000m2)
No. of employees
:
Starting at approximately 90 employees.
Production items
:
Manufacturing and sales of forged and turned parts targeted for automotive and motorcycle bearings.
Production volume target
:
4 million parts per month (by the end of 2017)
Completion image of the new plant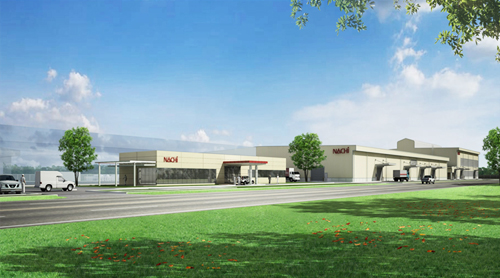 END