News Releases
July 20 , 2016
NACHI-Fujikoshi
Nachi-FUJIKOSHI Introduces a New Category Robot
"WING SLICER" Type "EZ series"
1. Expansion of the Compact Robot Market
Efforts to automate have been increasing with the objectives of improving productivity, reducing costs, and improving quality through the introduction of compact robots for automotive and industrial machinery applications. Compact robots benefit electrical and electronics fields and light industries such as chemicals and food at both domestic and overseas manufacturing sites as well.
In developing nations, including China, the automation of manual work and the demand for replacing human labor with compact robots have been expanding rapidly against a backdrop of skyrocketing labor costs and a declining workforce.
2. Our Efforts
In September 2013, we introduced the world's fastest lightweight, compact robots, the MZ series to the market. In 2014, we made further efforts to cultivate the compact robot market around the world by extending our product range.
Today, there is an increasing need for automation especially in electrical and electronic manufacturing where large EMS (Electronics Manufacturing Services) players are driving such movement.
In view of such demand, we are introducing a New Category Robot EZ series "WING SLICER" type. We are now able to provide even more flexible manufacturing system solution to the market by combining it with our existing MZ series.
3. Features of EZ series, "WING SLICER" type
With its unique feature (Entire arm moves up and down), the following advantages are realized; space saving, high speed operation and minimizing inaccessible area.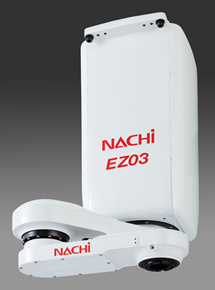 (1) Downsizing the equipment
 Installation of the inverted mount type EZ series on the production line provides space saving for equipment layout compared to the commonly used floor mount type SCARA.
(2) High speed operation with the shortest path
 Thanks to its slim arm which has no servo-motor inside, high speed operation is possible. Inverted mounting allows no inaccessible area and it can generate the shortest path under the robot body, thereby reducing the operating distance. The net result is reduced cycle time by 30%(compared to a floor mount type SCARA).
(3) Smart cable routing
 Wire and tube routing to hands, etc., is made easy by the hollow wrist with a large, 36 mm-diameter hole in the tip of the wrist. With all wires and tubes built into the machine body, the risk of interference with peripheral devices is reduced, hence operational reliability is significantly improved.
(4) Complicated operations can be performed (6-axis model)
 More complicated operations such as insertion from an angle, change of orientation in an assembly process and grinding/finishing processes were considered very difficult with traditional "horizontal articulated" types.
With the addition of EZ02 having 6-axis arm, such operations are possible. (scheduled to be released in this summer.)
(5) Various options
 Depending on the requirement of equipment, user can select a combination of appropriate arm length and controller from 4 lineups.
4. Release Schedule
(1) Release date : July 2016
(2) Price : Open price
(3) Sales target : 1,000 units/year (2017)
5. Contact for Information on New Products
Robot Sales Division, NACHI-FUJIKOSHI CORP. Robot Planning Department
Phone: 076-423-5135
END