News Releases
July 31, 2018
NACHI-Fujikoshi
Nachi-Fujikoshi Launches SPS-2020 Hybrid Ion Plating Device
for DLC Film Forming
1. Market Trends
Coating processes are performed in a wide range of industrial fields to extend the useful life and improve the performance of metal products.
There is particular demand for diamond-like carbon (DLC) film, a type of amorphous carbon-hardened film whose main constituent is carbon. Due to the abrasion resistance, non-coagulating properties and low friction of DLC film, it is widely used in tools such as aluminum cutting drills, plastic and glass lenses, molds for aluminum products, and automotive components such as clutch plates and piston rings. The size of the market is growing at a pace of more than 10% per year, and there is a heightened demand for faster and higher-quality DLC film forming equipment.
Recently, Nachi-Fujikoshi developed and launched the SPS-2020, a hybrid ion plating device that achieves high-quality, high-speed film forming.
2. Features of the SPS-2020
(1) Improved film-forming quality through hybrid film-forming
Through a hybrid film-forming technology that combines the sputtering method, where the film-forming substance is forced out through an ion beam in a vacuum, and the P-CVD method, where a gas containing film-forming substance is inserted into plasma, film forming quality has been improved in terms of hardness, film thickness and other qualities.
(2) High-speed DLC film-forming
The unit is equipped with two high current HDC plasma guns which emit high-density ion beams with a higher ionization rate. This offers a DLC film-forming speed that is about 1.5 times faster than that of previous units, providing improved production efficiency.
(3) Stable film-forming quality
Thanks to Nachi-Fujikoshi's unique plasma control technology and optimum mechanical structure, variation between loaded workpieces is controlled to ensure stable film-forming quality.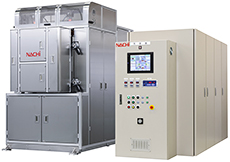 3. Target Markets
·
Aerospace
:
Aluminum component cutting tools, bearings supporting high-speed rotation
·
Automotive
:
Sliding components that contribute to improved mileage thanks to low friction qualities, hybrid motor components
·
Industrial Machinery
:
Robotic components, power transmission components
Other fields including medicine and optics
4. Specifications
| | | | |
| --- | --- | --- | --- |
| · | Effective film-forming range | : | Ø500 × height 500mm |
| · | Processable weight | : | 200kg |
| · | Dimensions (w × d × h) | : | 5,000 × 4,500 × 3,000mm |
| · | Supported film types | : | DLC, TiN, AlCrN, TiAIN, others |
5. Release Schedule
| | | |
| --- | --- | --- |
| (1) Release date | : | August 2018 |
| (2) Price | : | 120 million yen (price for standard main unit / excluding tax) |
| (3) Target Sales | : | 6 units / year |
6. Contact for Inquiries Regarding the New Product
Planning Department, Thermotech Division, Tel: +81-(0)76-471-2981
END