News Releases
November 1, 2018
NACHI-Fujikoshi
Launch of "AquaREVO Drills", a Revolutionary Manufacturing Product
1. Our Efforts
We released the AQUA Drill EX, a carbide drill, in 2008. Since then, the extensive lineup of product series, such as the AQUA Drill EX FLAT with a completely flatcutting edge end, has been expanded and our share of the carbide drill market has grown.
However, in the field of manufacturing automobile and machine parts, demand for the ability to cope with difficult-to-cutting materials, such as highly rigid materials and heat-resistant steel, improved machining efficiency for enhanced productivity, and an extended tool lifespan have been growing. Tools developed on the assumption of existing technologies have reached their limit.
We have adopted the newly developed carbide material and coating, and a newly designed blade shape for the new product, introducing to the market AquaREVO Drills, an innovative, high-precision carbide drill with a longer lifespan. With the new carbide drill advanced beyond the limit found in the development of earlier models, we will contribute to our users in improving productivity and reducing costs.
2. Overview of AquaREVO Drills
(1) Innovation of AquaREVO Drills
① New Material
By combining the unique technologies of NACHI-Fujikoshi, which has the material department in the Group, we have developed new material with both rigidity and tenacity, which has been conventionally difficult to achieve at the same time, as well as superior wear resistance. We have begun in-house, integrated production of this newly developed material.
② New Shape
By adopting a straight, cutting-edge instead of a concave cutting-edge shape generally adopted in carbide drills, it disperses the stress applied during cutting. The shape of the chip is stable under any processing condition, enabling the highest-ever productivity.
③ New Coating
Our newly developed REVO-D coating, which is a process for producing a tough film by laminating two types of film with superior oxidation and wear resistance, which are laminated on a nano level. Not only the supersmoothing process that improves the low friction but also the smoothest-ever process are continuously performed.
The new material, shape, and coating, beyond the existing concept, are matched to offer an unprecedented method.
① Longer Life
With overwhelming durability and stability, it achieves a lifespan at least double that of competitors drills.
② Shorter Work Time
High-speed cutting and high feeding are enabled to reduce the work time by 50%.
③ Wider Range of Materials to be cutting
Realizing high-quality processing of a wide variety of materials, ranging from raw materials to high-hardened materials without a drop in efficiency.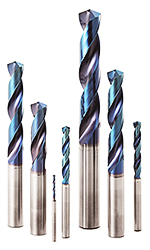 (3) Series, dimension range and price
The first series of the lineup features two types, stub and regular. (Stub is mainly used for drilling shallow holes.)
We will successively expand the series lineup in the future.
AquaREVO Drills Regular
| | | |
| --- | --- | --- |
| Size range | : | Ø2.0 - Ø16.0 Total of 181 dimensions |
| Typical dimension | : | Ø6.0, total length 82mm |
| Reference price | : | 9,610 yen/piece (tax excluded) |
AquaREVO Drills Stub
| | | |
| --- | --- | --- |
| Size range | : | Ø2.0 - Ø16.0 Total of 181 dimensions |
| Typical dimension | : | Ø6.0, total length 66mm |
| Reference price | : | 8,140 yen/piece (tax excluded) |
| | | |
| --- | --- | --- |
| Launch date | : | November 1, 2018 for global launch |
| Sales target | : | 1 billion yen per year for the first fiscal year, and 5 billion yen per year for the third fiscal year and beyond for the entire Series |
END