News Releases
November 2, 2018
NACHI-Fujikoshi
Concerning In-House Production of Carbide Material
1. Our efforts
NACHI-Fujikoshi was established in 1928, aiming to domestically produce cutting tools. Then we started the in-house production of special steel, which is a material for cutting tools, considering that superior materials are needed to produce better goods. Since then, we have continued to build and maintain our system for the integrated manufacturing of cutting tools, from materials to products.
In recent years, demand for carbide tools has expanded as cutting conditions have become more diverse. Under these circumstances, we started the carbide material development project in 2015 and made efforts to develop materials and production technologies, obtaining unique know-how in the course of these efforts. In the future, we will stably supply new high-performance, high-quality carbide materials to contribute to improve the performance of carbide drills as well as productivity and reduction of user costs.
2. In-house production of carbide materials
(1) Targets and purpose
In carbide tools, to satisfy the need for improved productivity, it is desired that carbide tools are capable of responding to high-speed, high-feed cutting and therefore the raw materials and other materials must have high toughness and high wear resistance. Currently, we have developed a new material dedicated to the new carbide drill AquaREVO Drills in order to contribute to the significant improvement of performance of drills with this product.
(2) Material developed
We achieved a carbide base material dedicated to AquaREVO Drills with both high wear resistance and high toughness with our unique alloy design.
(3) Advantages of in-house production
① Advantage in terms of material technology
In cooperation with the Tools Department, we appropriately advanced the performance verification through cutting tests and achieved optimum performance. With high hardness and toughness the new material has been developed with our unique composition design and sintering technology in which the grain size and homogeneity of the metal carbide are strictly controlled. Production conditions have been optimized to improve product quality.
② Advantage in terms of production technology
We have built a production line with state-of-the-art equipment, such as sintering HIP furnace, to produce high-quality carbide materials. On the other hand, we introduced an automated line with a unique robot system to achieve stable product quality and expand productivity improvements.
③ Description of development investment
| | | |
| --- | --- | --- |
| Investment description | : | Construction of a new, dedicated plant, introduction of most advanced production and inspection equipment such as the extrusion molding machine, sintering HIP furnace and others |
| Investment amount | : | Approximately 2 billion yen |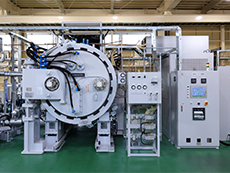 Sintering HIP Furnace
Processing Robot System
3. Efforts to be made in the future
We will continue to develop unique, high-performance materials that satisfy the needs of the Tools Department and also advance the development of carbide alloy materials, which are used for tools other than round tools, such as a skiving cutter. In addition, we will examine sales of carbide materials to external companies.
END