News Releases
Janary 31, 2019
NACHI-Fujikoshi
Introducing the "MZ01" Ultracompact Robot
1. Expanding the compact robot market
To address labor shortages and enhance productivity in response to shrinking working populations and soaring labor costs, manufacturing industries are increasingly shifting towards automation through robot introduction.
Demand for compact robots is growing rapidly, especially in the fields of electric machinery, electronics, and EMS.
2. Our initiatives
Nachi-Fujikoshi made a full-scale entry into the compact robot market in 2013 with our world's fastest and lightest compact robot model "MZ07". Since then, we've broadened our lineup of compact robots by adding new models to the MZ Series and launching the EZ Series wing slicer robots in the market. These compact robots have won praise worldwide in various fields, including industrial machinery, electric machinery, electronics, and EMS as well as our market share is growing widely.
We have succeeded in further expansion of our market share since we launched ultracompact robot model "MZ01" designed to meet space-saving demands in the electric machinery, electronics, and EMS fields for applications that involve the handling of small component workpieces weighing around 100 g.
Additionally, we're planning to expand the payload range from 1 kg up to 25 kg and to expand our lineup of compact robots, including SCARA robots, to allow use of Nachi robots in every customer process. In addition to compact robots, we offer systems incorporating the CZ Series of collaborative robots, which will help meet all the specific factory automation needs of individual customers.
3. Features of the MZ01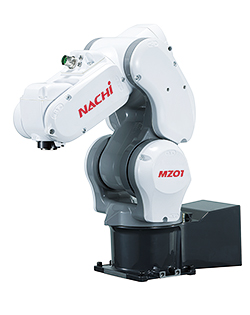 (1) World's smallest 1 kg payload robot
Occupying 45% of the volume taken up by the MZ04, this robot features compact dimensions and high stiffness. It's the world's smallest vertically articulated robot with a payload of 1 kg.
In addition, unlike SCARA robots of similar payload capacity, the new robot operates with a reduced range of interference to achieve significant space savings.
(2) Clean room specifications allowing installation anywhere
For installation in cleanrooms, this robot in its standard configuration meets cleanroom specifications (equivalent to ISO Class 5). It weighs a mere 10 kg and is easily carried by hand if facility layouts are reconfigured.
(3) Support for various applications
In addition to powerful wrist torque, the standard configuration provides the cables and hoses required for various applications. Eliminating the need for cable and hoses outside the robot reduces risk of interference with peripherals and dramatically improves customer convenience.
4. Release schedule
(1) Release date : January 2019
(2) Price : Open pricing
(3) Sales target : 3,000 units/year
5. Inquiries about the new products
Robot Business Planning Department, Robot Division, Tel: +81-(0)76-423-5135
END