News Releases
May 31, 2019
NACHI-Fujikoshi
Expanding the Innovative Hyper Z Tap Series
with Taps Designed for High Hardness Steel
1. Our initiatives
Nachi-Fujikoshi launched the Hyper Z Tap Series in November 2016. These innovative taps have edges and grooves shaped to combine stable machining accuracy and chip evacuation performance by feature our proprietary surface treatment. The series of Tap has been warmly received by customers across many fields for their remarkable stability and long service life.
Now, we've launched the Hyper Z Low Spiral Taps designed to machine high hardness steel. The latest additions to the Hype Z Tap Series, following the general-purpose models and models designed for stainless steel, will broaden applications with a wide range of work materials, sizes, and cutting conditions. We also plan to propose combinations of drills and taps that optimize and increase the efficiency of the overall hole machining process, thereby helping users increase productivity while reducing costs.
2. Overview of the Hyper Z Low Spiral Taps
(1) Target market and needs
High hardness steel is widely used for dies and parts in many fields, including automobiles, automotive parts, and industrial machinery.
Due to the hardness of this steel, ordinary tools are easily chipped and soon worn out. Thus, demand is growing for tools suited for high hardness steel and featuring strong cutting edges and high abrasion resistance.
① Long life
Our proprietary surface treatment and powder high speed steel conferring both hardness and toughness improve edge strength and wear resistance. In addition to high hardness steel, these taps can cut even ductile castiron without chipping cutting edges. They offer more than double the life of similar products from competitors.
② Stable machining performance
The taps feature low spiral grooves optimized for high hardness steel. These grooves cut chips into small pieces for easy removal, allowing stable tapping, even with horizontal machining centers, which are prone to problems such as chip clogging and entwining.
*To facilitate chip removal, low spiral taps feature smaller twist angles than ordinary spiral taps.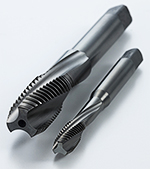 (3) Series size range and prices
Hyper Z Low Spiral Tap ZSP-LS
Thread size range
:
M3 to M12, coarse thread and fine thread, 10sizes
Reference sizes
:
Typical size M6 (coarse),
62 mm in overall length at 1,830 yen/pc (tax excluded)
Typical size M20 (coarse),
82 mm in overall length at 4,880 yen/pc (tax excluded)
(4) Release date and sales target
| | | |
| --- | --- | --- |
| Release date | : | May 2019, global release |
| Target sales | : | 50 million yen annually |
END