News Releases
December 17, 2019
NACHI-Fujikoshi
Adding the MZ25 Medium-sized Robot to the MZ Series
1. Expanding the robot market
To address soaring labor costs and labor shortages and to enhance productivity in response to aging populations and shrinking workforces, manufacturers are increasingly turning to robots to automate production—not just in the automotive industry, but in other fields.
2. Our initiatives
In 2013, Nachi-Fujikoshi launched the lightweight MZ07 (7 kg payload), the world's fastest compact robot. Since then, we've expanded the MZ Series, which features high speed and high accuracy across the product lineup. This series has developed a strong reputation and expanded our global market share.
Targeting the fields of automotive parts and general industrial machinery, where demand for automation is growing, we've added the MZ25 medium-sized robot (25 kg payload) to the MZ Series. With this new robot, which retains the speed, accuracy, and versatility of our MZ Series compact robots, we are aiming to expand our share of the medium-sized robot market.
To meet the specific factory automation needs of our customers, we plan to broaden our lineup of compact to medium-sized robots and collaborative robots, including SCARA robots, and to propose new systems and applications incorporating robots.
3. Features of the MZ25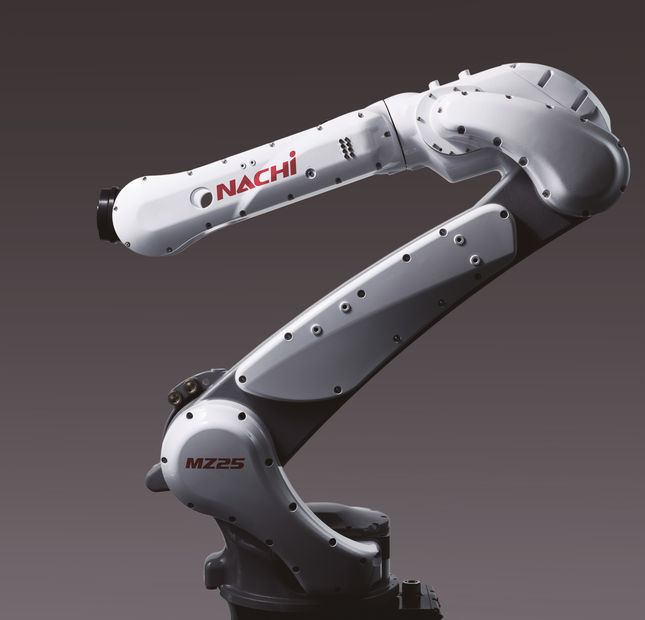 (1) High versatility
 Thanks to powerful wrist torque and a larger work envelope compared to robots of similar payload capacity, the MZ25 is capable of handling large workpieces and compatible with large robotic grippers. It's suitable for wide range of tasks and applications, such as loading, deburring, parts assembly, and transportation. The MZ25 features water and dust protection(IP67) and rust prevention in its standard configuration and can withstand environments subject to dust and splashing water.
(2) Precise, high-speed movements
 Featuring both light weight and toughness, these robots feature movements with class-leading precision and speed (position repeatability: ±0.05 mm), thereby increasing productivity.
(3) Various applications
 The MZ25 features our proprietary hollow-wrist design. To minimize interference problems associated with wiring to peripherals and to enhance reliability, all wiring and piping needed for various applications are provided as standard equipment. The standard equipment also includes a large-diameter air hose that enables large airflow and multiple connection ports for different applications, dramatically increasing convenience.
4. Release date and sales target
(1) Release date: December 2019
(2) Price: Open pricing
(3) Target sales: 1,000 units/year (fiscal 2020)
5. Inquiries about the new products
Robot Sales Strategy & Promotion Dept., Robot Division, Nachi-Fujikoshi Corp.,
Tel: +81-(0)76-423-5135
END