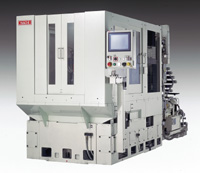 DH524
Capable of MQL machining


Non-pecking deep boring is enabled by MQL machining, with the result that machining efficiency has been improved five times.

Space saving


The required machine space has been reduced to 40 percent. (as compared to our conventional product).

Energy saving


Power consumption by the machine has been reduced to 60 percent. (as compared to our conventional product).

Improved maintainability


Adoption of a single column structure improves the maintainability of the spindle unit.
Use of a self-lubricating device for the ball screw and linear guide eliminates the need of routine lubricating oil management. Adoption of a highly rigid three-point support bed ensures improved stability of machine installation.

Improved chip removal efficiency


Smooth removal of chips produced during machining process is ensured by the bed that allows chips to fall down immediately below.

Standardization of crankshaft machining jigs


Three types of crankshaft machining standard jigs are available.