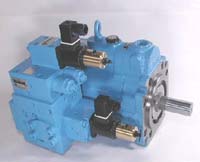 PZ-3B-70
Half-cylindrical swash plate and 11 pistons for low noise and low pulsation
Spherical valve plate for high efficiency
(Employed into 3B, 4B and 6B.)
Various capacities ranging from 35 to 220cm3/rev
(7 sizes in total)
Multiple string option with our IPH series inscribed gear pump.
The electro-hydraulic propotional control valve uses the proven force feed-back system for improved hysteresis, repeatability, and response.