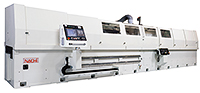 Thread grinding machines "GTE series"
Thread grinding machine can process a wide range of workpieces, such as ball screws, injection screws, roll dies, etc.
High-precision machining with excellent machining technology.
This series of machines covers a wide range of sizes; the smaller sized machine has a maximum distance between centers of 800mm, while the larger machine has a maximum 5,400mm.
High-accuracy feed and drum-type swivel wheel head provide highaccuracy grinding and excellent work efficiency.
Various options are available for your needs, for instance, hydrostatic work head and automatic swivel wheel head.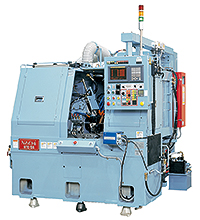 Thread grinding machines for mass production "GTE-SA series"
Thread grinding machine for mass production of automotive and other parts.
Each automation such as automatic clamping, automatic groove alignment, and automatic swivel wheel head helps to achieve high productivity.
Two space-saving models are available in different size, Max. 200mm and Max. 400mm (distance between enters).
●Sample