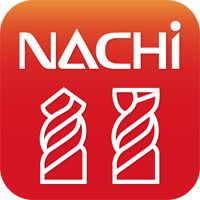 Supported device OS:
iOS 5, 6, 7
Android 2.3, 4.0 to 4.4
Supported languages:
Japanese, Simplified Chinese, English
Introducing Nachi's drill and end mill cutting calculation application.
This app supports control of such aspects as cutting speed and spindle speed through value inputs.
The app is also able to compare the processing and cost of multiple entered values.
The application supports both millimeters and inches.
The application menus are as follows:
Drill cutting calculation
End mill cutting calculation
Web cutting tool product introductions
Web cutting videos
Web catalogs
Web product searches