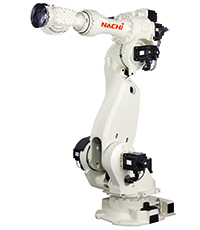 Linkage-less construction is simple and compact
Simple construction has no counterweights or parallel linkage.
Compact form can be installed in small places.
Expansive operating stroke and lifting capabilities
Plenty of wrist torque (1.7 times our existing model) easily handles large work pieces.
Long arm type (MC280L) has maximum reach of 3,101 mm
Super heavy lifting type (MC470P) can lift up to 470 kg (wrist must be directed downward)
High-speed motion
Lower weight and greater rigidity make it the fastest robot in its class.
Reduce cycle times by up to 15% (compared to our existing model).