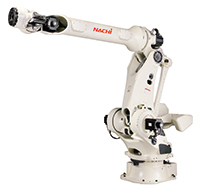 Hollow wrist structure
Avoiding interference of cables with peripheral equipment.
Improved reliability of cables due to its stable behavior with wrist movement.
High-speed motion
Top level performance in its class.
Powerful wrist
Easy handling for large work-pieces due to the large wrist capacity.
A work-piece of large moment of inertia is also available.
Advanced applicability
Wide envelope.
5 meter vertical stroke.
Application signals are standard
2 ports for air, 40 application signals, DeviceNet cable, LAN cable.