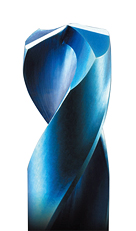 Realize high accuracy and longer tool life
in ultra-high-speed drilling in machining center
or turning machine where chip jamming is easy to occur.
Even the traditional 3 times higher feed can also be stable processing by adopting good geometry of cutting edge and flutes for reducing thrust cutting force, chip breaking and evacuation.
Improved chip breaking performance and realized outstanding chip evacuation in work rotation turning machine as well.
Even if it is stunning ultra-high-speed feed, but also can achieve long processing life, high-precision machining.