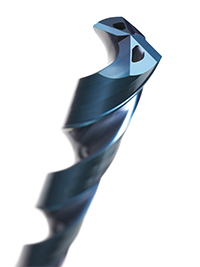 Optimized Oil-hole geometry REVO Power Cooler adoption
Coolant amount is 2 times than conventional.
Achieved excellent cooling and lubricant performance furthermore, best chip evacuation.
Longer tool life
New development Carbide Oil-hole material with high toughness and hardness.
New development REVO-D coating.
Wide range response
Apply for wide range material, such as Stainless steel to High hardened Material.
Achieve great performance with high speed and high feed drilling.