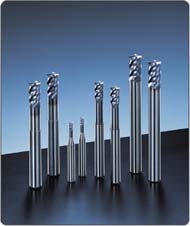 For milling of deep groove
It is possible to mill deep groove due to adoption neck or smaller shank dia.
Ridged and tough
Unique flute geometry and wide land on the cutting edge - Tough cutting edge bring extreme high milling speed and excellent finishing surface.
Long tool life
Wide range of High Speed Milling from carbon steel to hardened steel - Thanks for the best combination with Multi-layered TiAlN coating film and tough carbide substrate.