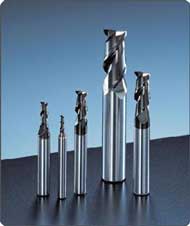 Dry milling of Aluminum
DLC (Diamond Like Carbon) is an amorphous material with high hardness and low friction rate, and has similar character of Diamond.
Application for milling in Aluminum Ultra high speed cutting in DRY !
Excellent chip evacuation
Trouble free drilling by unique flute geometry Stable & extra long tool life is realized by DLC film & its unique flute.