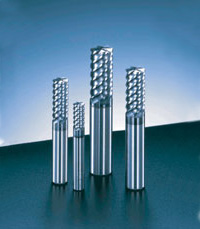 Super high speed milling
Newly developed ultra aluminum rich Al-Ti-Cr multi-layered "GS Hard Coat" allows super high speed milling up to 800m/min.
High rigidity
Unique geometry improves chip removal and tool rigidity.
Long tool life
Ultra micro grain low-cobalt carbide with high hardness improves tool material strength and curtails micro-plastic deformation that can occur at very high speeds. The result is better durability.