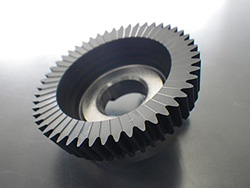 Optimal tool design
We utilize gear processing technology and tool design technology to implement analyses of cutting mechanisms in order to achieve higher precision and longer tool life.
Surface treatment tailored to skiving processing
We add surface modification to film component design and optimization of the film formation process to establish the surface treatment technologies necessary for skiving processing.
Select the optimum tool materials
We analyse the properties necessary for skiving processing, including abrasion resistance, chipping resistance, thermal shock resistance, etc. and use the materials that are optimal for the gear dimensions and processing conditions.