Slim Collaborative Robot CZ10
Collaborative people-friendly design

Nachi's new robot, CZ10, has several people-friendly functions and structures.
Makes it easier to install a robot with various applications.

Stops safely when contact is made with person.

Stops when collision is detected.

Easy Programming

Pinch Points Eliminated.
User-friendly Design
Pinch points and sharp edges eliminated for safer human interaction.

Application examples
Mutual harmony with people
Contents written in this site do not ensure safety of system. Risk analysis of entire system is required to reduce the associated risk of the system.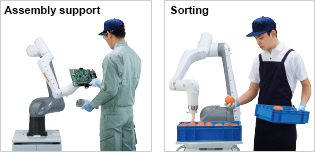 Catalog Download

· CZ10 (4pages/1,066KB)